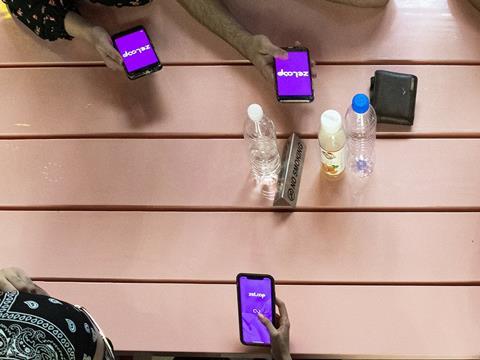 The Readers' Award finalist app ZeLoop is using cryptocurrency to incentivize consumers to recycle plastic bottles. Before recycling their bottles at one of 5000 crowdsourced collection points, users take a picture of the amount they are disposing of. Their picture is then verified, and they win blockchain tokens called Eco Rewards that they can exchange for goods and services.
Founder and CEO Eric Schaffner believes that some of the responsibility for plastic pollution lies with the consumer, and not only with the brands producing the plastic products. "If waste ends in nature – a bottle or any other item, actually – there's a human behind that act that has littered," he said, "and it's not really the full responsibility of the brand."
He explained that the app is primarily aimed at people who need the extra push to commit to recycling. "What we want is to get people for whom the motto 'it's good for the planet' is not sufficient for them to go that extra step," he said.
The app is also gamified on the corporate side, with companies being able to arrange challenges for their customers and employees. Schaffner said that this enables brands to get "involved with actions that are tangible on the ground" and show to their consumers that they are working towards sustainable goals, avoiding greenwashing. "With ZeLoop, we offer that possibility," he said, "because we measure every deposit, so it's a good level of engagement."
The app recently reached 10,000 registered users in 146 countries, although there are verified collection points in 45 countries so far. "10,000 is already a first achievement, but it's not enough to have a significant impact that will count competitively," Schaffner said. He went on to add that ZeLoop's aim is to "reach a couple of millions of users within the next years." He added:
"I think we saw that we have a good traction on the corporate side, but also a good response with users. On the challenges, for instance, we have seen some users collecting up to 6000 bottles in a month in UAE.
"But in UAE, the average consumption is 400 bottles a year, so to get 6000 in a month, you really have to do more than just what you consume. So, we clearly demonstrated that by turning the waste into gold, people are ready to engage and go the extra mile."
In the future, Schaffner explained that ZeLoop hopes to plug other applications that incentivise eco-friendly gestures on their reward engine. He said that establishing a "common element" between different applications is the reason why ZeLoop utilises blockchain elements.
Having other apps on the platform will enable ZeLoop to advertise their app to users of the other applications without having to manage the acquisition for those apps.