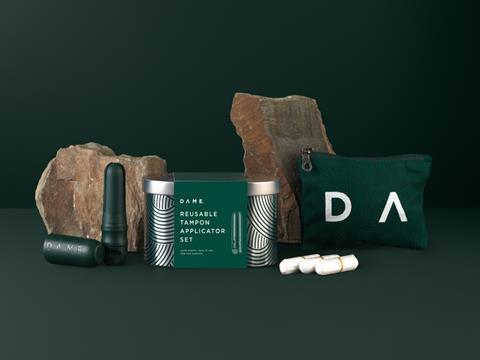 DAME is a period care company aiming to make sustainable options more accessible to menstruators by providing familiar products in reusable formats, including its flagship self-sanitising reusable tampon applicator. The company is also reducing the footprint of its secondary packaging with its subscription service and biodegradable wrappers for tampons.
Alec Mills, the co-founder of DAME, sets out the company's mission to bring sustainable period care solutions into the mainstream.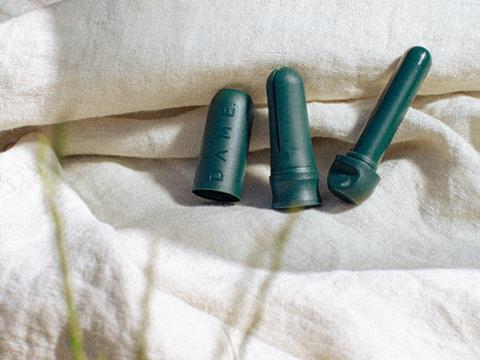 Starting the swap to reusable applicators
Mills and DAME co-founder, Celia Pool, initially created the period product start-up, Sanitary Owl, in 2015. The intention was to provide a subscription service where customers received branded period products by post. However, Mills describes the realisation of having "sleepwalked into a toxic industry" one day while the pair were packing delivery boxes.
"The products we were delivering to customers were wrapped in plastic, nestled in plastic applicators," Mills explains. "Even the absorbent parts, which you'd assume were made from natural fibres, were laced with plastic."
While Mills acknowledges that "sustainable products had existed", he says "very few of our customers were buying them". There are several reasons why this might be the case, even now – unfamiliarity, personal preference for product types that did not yet have reusable options, taboos surrounding the discussion of periods.
For example, menstrual cups or applicator-free tampons are often highlighted as products that can help people who menstruate cut their plastic use during their periods. Yet Mills notes research that found 60% of UK women preferred to use tampons with applicators. Additionally, 1 in 3 people surveyed by DAME for its 2021 Impact Report said they had tried a menstrual cup before returning to tampons.
This drove Mills and Pool to establish DAME from their original start-up. DAME went through "two years of research and design" to launch "the world's first reusable tampon applicator, exclusively designed for DAME" by medical engineers. The applicator apparently works with most standard-sized non-applicator tampons, allowing more people to access these products without having to move away from the method of use they are most comfortable with.
DAME's reusable applicator is made from medical grade Mediprene and polypropylene (PP). Mills adds that these materials reflect the familiar appearance and functionality of single-use applicators, with the DAME applicator designed "to be as easy to use as possible" – and for as long as possible. "If treated well, this applicator should last for at least 10 years. We want all our bathrooms to have fewer things that last longer."
In addition, Mills says, "we've designed the reusable tampon applicator to be hygienic, with inbuilt antimicrobial properties to actively keep it clean". The reusable applicator contains Sanipolymers made from Saniconcentrate, a plastic additive developed by Dutch start-up Parx Materials that prevents bacteria from adhering to surfaces. This kills bacteria without the need to use biocides.
According to Mills, "the Sanipolymers are continuously working to sanitise the reusable tampon applicator," meaning that unlike some other reusable period care products, the DAME applicator "does not require boiling". Users are encouraged the wash the applicator thoroughly with water and then dry it for storage inside a cotton wallet between uses.
"95% of our applicator customers keep using our applicator after 100 days. Using this information, we're able to accurately predict we've saved over 15 million plastic applicators going to landfill," Mills tells us.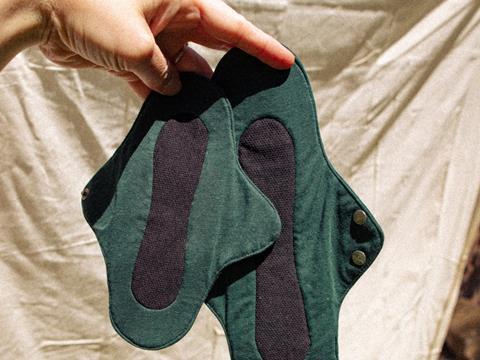 Going back to basics with reusable pads
The next step for DAME was exploring sustainability for pads. The company says that typical disposable pads are often made up of 90% plastic with 2.1 million used every day in the UK. While reusable pads are one of the most historical forms of period care, they appear to have fallen out of favour while disposables – often considered more convenient – have become the preference for many menstruators.
"We asked our customers what DAME should tackle next and the resounding answer was a reusable pad," Mills explains. With the popularity and functionality of disposables in mind, "we set out to truly understand what the perfect reusable pad needed to be from the perspective of disposable pad users."
The research and development of the DAME reusable pads was funded by Innovate UK, an innovation agency run by the UK Government. The pads have been developed to feature five layers "inspired by high performance sportswear", with the aim of making sure the pads offer "safety and confidence" throughout a period by preventing leakage.
Like with its reusable applicator, DAME has also incorporated technology intended to enhance the hygiene of reusable menstrual products without requiring too much extra effort on the part of the consumer. "The pads layers are infused with SILVADUR antimicrobial silver ions to inhibit bacterial growth, control odours and create long lasting freshness without toxic chemicals," according to Mills.
"Switching to our reusable pads from disposables will prevent up to 300 pads per year going into landfill if used for every day of your period," Mills adds.
DAME encourages customers to rinse the pads, then wash them on a normal cycle with other garments – which reportedly gives the reusable pads a carbon footprint five times lower than disposables. While the majority of DAME's emissions come from the use of its products, particularly the water and energy required to clear its reusable pads, the company says the plastic content of disposable pads means that reusables remain the more environmentally conscious option overall.
"Our pads don't just save plastic, they save money," Mills notes. As part of DAME's aim of making period care more accessible, the company says that long-term use of its pads – around five years – will ultimately cost less than disposables.
However, Mills also acknowledges that the upfront cost of reusable pads can be a barrier. A single period pad from DAME costs £10.99 online, while a set of six (3 Regular and 3 Night) is £68.94. "How do we ensure people who need these cost-savings most can access them?" Mills asks. "Making our pads' long-term savings more accessible to people in the short-term is one of our goals for the coming year."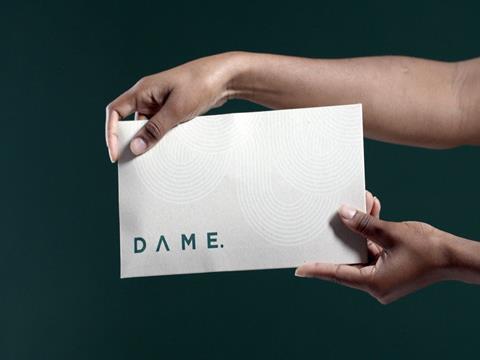 Secure and sustainable secondary packaging
While DAME's reusable applicator works with most non-applicator tampons, the company also has its own rang of organic cotton tampons in regular, super, and super plus absorbencies that Mills claims are "fully biodegradable as well as being free from any chemicals, additives, or plastic".
In addition, DAME has paid close consideration to the secondary packaging of its tampons, which are required by law to be packaged in an air-tight wrapper. DAME tampons are wrapped in cellulose-based cellophane, which Mills explains is derived "from digested wood pulp" that the company has FSC and PEFC Chain of Custody certifications for. "Cellulose is then regenerated as a clear, shiny film," which is used as the tampon wrapper.
"Originating from a natural source means it can biodegrade with the help from microorganisms in the soil," Mills adds of the DAME tampon wrappers. While cellophane is not recyclable, "the tampon wrapper will biodegrade in around 2-4 months" and is also OK Compost Home certified. "Industrial and home composting are the idea end-of-use scenarios."
DAME offers its tampons as part of a subscription service to UK customers, based on the same concept as Mills and Pool's original start-up: a convenient delivery option that helps to ensure customers do not run out of tampons when they need them.
"We've carefully designed our subscription packs to be the size of a large letter," Mills explains. "There's only one layer of packaging – the subscription box is the postal box. This means we can minimise resources and waste."
DAME tampons are delivered in quantities of 34. Postage is also covered by the company, and DAME customers can decide how frequently they want the tampons delivered. Mills says that making the way people buy tampons easier and more efficient is a key part of DAME's accessibility mission, embedded in the start-up's outlook from its very first iteration.
"We believe everyone should have access to positive periods. Planet-friendly, shame-free periods mean nothing if only a small percentage of the people who menstruate have access to them."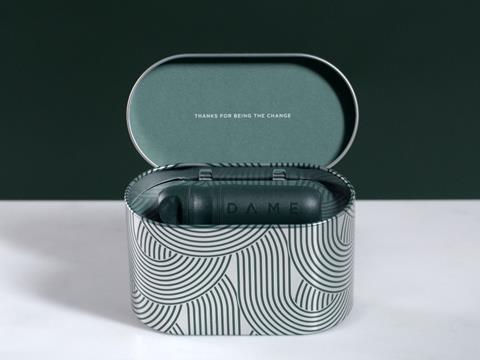 What's next?
DAME was awarded B Corp status in 2019, which means it will need to apply for re-certification this year. On the sustainability side, DAME is examining its supply chain to examine where changes could be implemented.
According to Mills: "We are working with our existing and new suppliers to pack products at source where possible, to reduce the supply chain and our carbon footprint."
However, DAME believes that the key, going forward, is to continue working on destigmatising periods so that reusable products become less novel and more mainstream. The company highlights the connection between negative imagery and language used to present periods, and the hesitance to look for or talk about alternative menstrual care products. With campaigns such as its London bus advert, which included an image of beauty blogger Demi Colleen in pants with a visible DAME tampon string hanging down, DAME is hoping to foster necessary conversations.
Mills concludes: "The biggest thing we can do to improve sustainability is to get people (re)using our pads and applicator. This means dismantling the stigma around periods and period blood – so the more we can talk about it and normalising reusables, the more sustainable we'll be."