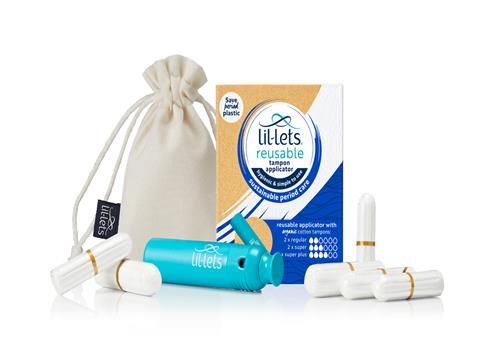 Period product brand Lil-Lets debuts its reusable tampon applicator, which is now available to purchase online, while announcing it will phase out the manufacturing of its plastic applicator tampons.
The Lil-lets reusable applicator is made of thermoplastic elastomer (TPE), which comprises the tube and plunger, while the lid is high impact polystyrene (HIPS). TPE is already used in menstrual cup products, and the company adds that both materials can be recycled depending on local guidelines.
According to the company, the new reusable applicator – alongside ceasing production of its plastic applicator tampons, which it is aiming to achieve by November 2021 – will reduce plastic waste by over 11 tonnes each year. The applicator should reportedly last for two years with frequent use and appropriate care.
Abby Smith, senior brand manager and spokesperson from Lil-Lets, comments: "Lil-Lets understands women and people with periods, and that using tampons with applicators is a personal choice.
"We listened when our customers had concerns about the environmental impact of our plastic applicator products, and, following 12 months of product design and testing, we are thrilled to be in a position to make a difference today.
"This is not a single-use applicator; it was designed to be used and reused. It is easy to make the swap and, by choosing our reusable applicator, you will be saving an average of 286 single-use applicators from being thrown away and possibly ending up in landfill or oceans."
The company says its reusable tampon applicator is designed for familiarity, drawing on the same shape and mechanism as plastic tampon applicators. It adds that it conducted consumer panel usage tests and found that 89% of respondents agreed that the reusable applicator was "simple and easy" to use.
When the applicator is used during a person's period, it can be cleaned with warm water and mild soap, then dried before reuse. At the end of the period, the user should resterilise the applicator in boiling water, wipe the lid with sanitiser, and then keep it stored in a cotton bag (which is included in the purchase of the reusable applicator) until it is needed again.
The Lil-Lets reusable applicator is compatible with Lite, Regular, Super and Super Plus Lil-Let tampons, which can be purchased separately.
The reusable applicator can be purchased online from Lil-Let's website at an introductory launch price of £12.99, which will increase to £17.99 from March 2022. The company is also offering a money-back guarantee to encourage consumers to make the switch.