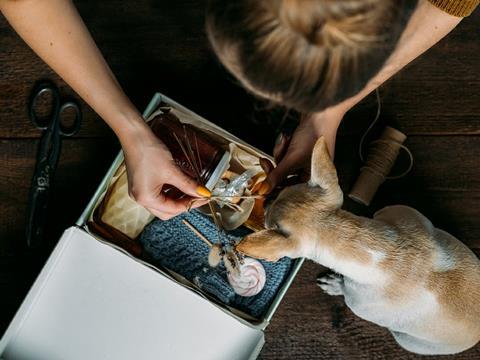 In line with the rapid growth of other e-commerce trends, the subscription box market has experienced a boom as consumers turn to online subscription services over brick-and-mortar shops. But what are the environmental costs? Rich Quelch, global head of marketing at Lifestyle Packaging, tells us more.
While the curated makeup and skincare trend proves to be lucrative for beauty brands, many consumers remain in the dark about the environmental costs that come with their monthly box of products.
To shed light on this growing issue, I explore the environmental impact of beauty box subscriptions, look at the brands that are leading the way, and talk about how we can educate consumers to make more sustainable beauty choices.
The continued growth of beauty subscription boxes
During the height of Covid, the beauty industry faced many challenges; with governments making facemasks mandatory, people having nowhere to go, and limited places to buy non-essential grooming products, consumers made fewer makeup purchases throughout 2020.
However, while cosmetics sales dwindled, skincare products boomed, thanks largely to the increased time spent at home as well as growing concerns over personal hygiene.
Skincare rituals and pampering became an important part of maintaining positive mental health, with Google searches for 'self-care' jumping 250% throughout 2020 compared to the previous year.
As non-essential brick and mortar shops shut, many turned to online subscription delivery services as a way of treating themselves, resulting in 88 million subscription boxes getting delivered to UK doorsteps last year.
Despite early fears the market would fall, the subscription box market was estimated to be worth £1.4bn in 2020, soaring 135% since 2017. This figure is expected to climb as experts anticipate the market will be worth £1.8bn by 2025.
As a result, many beauty brands have jumped on the subscription box trend to meet shifting consumer behaviours.
However, many do not consider the environmental impact of beauty subscription boxes and how they contribute to the growing issue of waste.
Mini beauty, the environment's big problem
The beauty industry has long struggled in the fight against waste; it is the worst offending industry for contributing to the plastic epidemic, generating more than 120 billion units of packaging worldwide each year.
Moving into the subscription box market only makes this more challenging with increased packaging, greater carbon emissions, and heightened difficulty in terms of recycling miniature beauty products.
Cosmetic products, by their nature, need certain bottles, tubs or tubes for practical reasons and to protect the contents from environmental factors like sunlight, temperature and humidity. However, this often makes their primary packaging difficult to recycle. And when it comes to miniature products, recycling only gets trickier since smaller items generally can't be picked up by the sensors used to organise recycling waste.
Sample sachets are also having a big impact on the environment. Due to their size and mix of materials, most are not able to be recycled.
Both brands and consumers alike should thoroughly consider the type of packaging used – whether it is recyclable or made from sustainable materials – as well as how the products are sourced and what they contain before committing to a monthly stream of products and packaging.
Brands challenging the waste issue
Consumer behaviors have shifted dramatically during the pandemic as shoppers re-evaluate what is essential and what holds the most value for them, with studies revealing that consumers intend to spend less on personal care items in the future.
However, beauty brands can lure back customers by making positive changes when it comes to sustainability. 70% of consumers admit they're very likely to buy from a company that shares their environmental values, and 77% are even willing to more for environmentally-friendly products.
As more beauty lovers start to make eco-friendlier purchases, brands such as Birchbox are waking up to the issue and making positive sustainable changes.
The company is issuing co-curated beauty products, arriving in a reusable Stasher bag as part of Birchbox's commitment to ensuring at least 25% of its traditional boxes are reusable items. Additionally, the company also plans to have 70% of outer packaging from samples eliminated by the end of 2021.
Additionally, brands must continue to review new packaging technologies as they develop. For example, for brands that want to continue to offer the try-before-you-buy experience, there are now sustainable alternatives to traditional sample sachets.
An example of this is SnappD – a recyclable, single-use packaging for beauty and cosmetics samples.
Other beauty brands are taking a different approach and rewarding customers through their own recycling programmes. One such brand is MAC, which initiated its 'Back to MAC' scheme which allows customers to return used cosmetics containers that couldn't otherwise be recycled while customers enjoy a free lipstick for returning six used products.
These smart recycling incentives not only boost a brand's eco-credentials but also help to keep customers loyal.