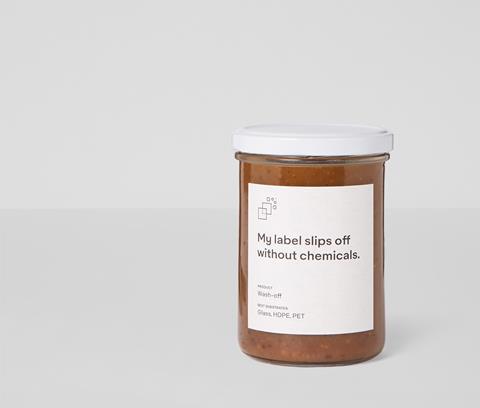 As part of our Finalist Interview series ahead of the Sustainability Awards, we spoke to Avery Dennison about its paper wash-off label range, nominated in the commercialized Climate category.
You're a finalist in the Sustainability Awards 2023. Congratulations! To start off, could you summarize your entry, in less than 50 words?
Our new paper wash-off label range enables clean removal of labels from packaging such as glass and plastic, using water as cool as 20°C and without any chemicals. Thanks to the clean removal, this range enables reuse and recycling of packaging and increases the life cycle of packaging.
Why do you think the judges were impressed with your entry? Tell us about what is innovative about your project and/or about its impact on packaging sustainability.
It ensures the reusability of packaging, supporting EU reuse targets and can help brand owners meet their sustainability goals as it involves circular packaging, reduced waste, and reduced energy consumption. It enables the circularity of packaging by offering a high-quality solution for reuse in household, industrial, and B2B [business to business] applications.
Reuse saves on materials needed for packaging as well as reduces the overall energy consumption of packaging, thereby reducing greenhouse gas emissions. Not having to use extra heat or chemicals during the washing process saves energy and materials and prevents any contamination of the water. It also means that this range requires less investment and offers a cost-effective solution for companies that use the washing process.
How has your innovation/initiative been received?
This innovative range enables end users to provide better supply chain performance. Due to the increase of e-commerce activity and logistics requirements, the range has begun to be widely used, especially in shipping applications.
The range has been qualified with some of the largest packaging pooling systems in Europe, like IFCO, Europoolsystem, and Svenska Retursystem to reach many end-users for providing better logistics applications, as well as PET recycling institutions like Returpack.
You're shortlisted for the Climate category. What do you see as the key demands and challenges in relation to reducing carbon emissions from packaging and packaged goods?
One of the biggest demands we had from customers was enabling circularity in packaging. Therefore, our challenge was to offer a paper wash-off label that supports the reuse of packaging, especially one that could wash off at a lower temperature, comply with the EU's REACH regulation by not having any solvent or NPEO, and meet customers' demands in terms of performance.
The new range overcomes these challenges and supports eco-friendly options for reuse by lowering the use of energy, removing the need for chemical additives, and avoiding contamination of water.
What do you think are the main opportunities in this area or what future innovations do you predict in this area?
Sustainability is a core driver of research and development at Avery Dennison and within reusable packaging there is still room for improvement. Developing more paper wash-off labels with recycled components, such as recycled face material (for example, recycled paper) and recycled liners (recycled PET, for instance) are the main opportunities for this product range.
Innovating to reduce chemical usage, lower the washing water temperature further, and make this range applicable for more packaging substrates will be necessary in order to use this product range in additional applications, such as frozen food storage and PP packaging. Finally, collaborating with washing facilities is another key step for market penetration of this product range.
The winners of the Sustainability Awards 2023 will be announced at the Sustainable Packaging Summit, which takes place in Amsterdam on 14-15 November. The Summit mobilises leaders of the FMCG value chain, policymakers, NGOs, recyclers and investors to collaborate, remove barriers and identify opportunities on the road to sustainable transformation.
To learn more or register, visit https://www.packagingsummit.earth/amsterdam2023/.
If you liked this article, you might also enjoy:
The L'Oréal approach to packaging sustainability
What steps is Apple taking to make its packaging more sustainable?
How did Brazil achieve its 100% aluminium can recycling rate – and can it be replicated in the EU?
Experts have their say on the EU's Packaging and Packaging Waste Directive revisions