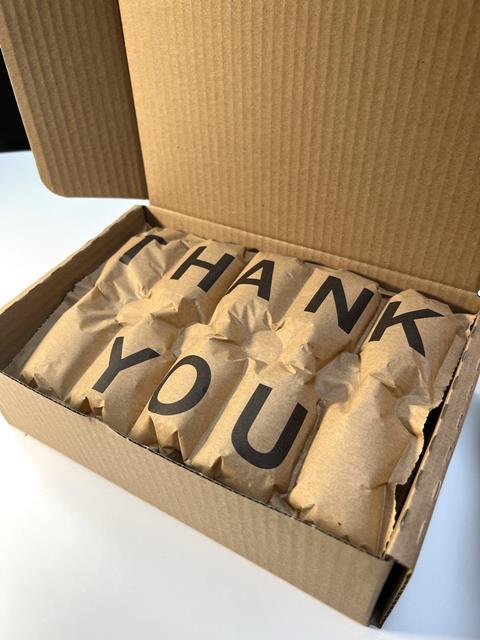 Our latest Finalist Interview ahead of the Sustainability Awards is with Floeter regarding its PaperWave box. We spoke to the company about this entry, nominated in the commercialised E-commerce category.
You're a finalist in the Sustainability Awards 2023. Congratulations! To start off, could you summarise your entry, in less than 50 words?
PaperWave has been proven to reduce packing time by 50-70%. It reduces the cushioning material inside the box by 40%, replacing often used plastic or crumpled paper inlets. PaperWave is made of 100% recycled paper with a potato starch barrier and is compostable, FSC (C162510) certified and curbside recyclable.
Why do you think the judges were impressed with your entry? Tell us about what is innovative about your project and/or about its impact on packaging sustainability.
With the AirWave box, a standardised form of an ultralight, curbside recyclable, air cushioning system is now available for the fast-growing e-commerce industry. Based on the concept of Amazon's frustration free packaging the AirWave box contains the message and billboards mainly on the inside and allows the clients' marketing to place messages, logos, and symbols on the inflated PaperWave material.
The clamshell effect of the box is further supported by the inflated Paperwave inlet, which forms a unique alliance between box and sustainable packaging material. The inlet is made of 100% FSC recycled, certified, compostable and curbside recyclable together with the carton box.
How has your innovation/initiative been received?
When we announced the idea of combining 2 carefully chosen materials to revolutionise the AirCushion market in e-commerce, we already got great feedback from major players in the beauty industry, the pet food industry and the food supplement market.
Immediately after we introduced the first commercial production to the market, we got support from forward thinking brand owners and replaced other, less environmentally friendly products like foams, crumpled papers or plastic void fill with PaperWave. The fact that PaperWave is saving over 80% CO2 and over 90% water compared to other forms of void fill packaging gives our product a jump start into the e-commerce market.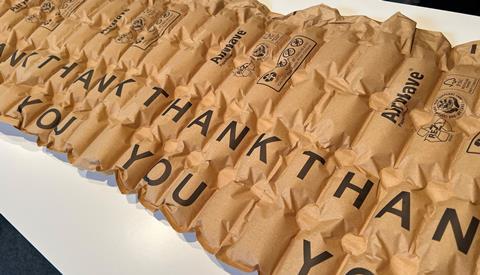 You're shortlisted for the E-Commerce category. What do you see as the key demands and challenges in relation to packaging for the direct-to-consumer channel?
The biggest challenge we are facing is that companies will have to rethink their packaging concept. Modern packaging needs to comply with the most likely end-of-life scenario. In most countries this is landfill, combustion or recycling. With our PaperWave product, we check all the boxes.
Sometimes this means spending a little more money on packaging, sometimes the packers need to work a little different when packing; but none of this should be a game stopper, because we help our clients to optimise the sustainable packaging to save money and we train the packers to get comfortable when using this modern form of void fill materials without slowing them down.
On the other hand, we do see that we have many different regulations in different countries, different certifications and different consumer perceptions. Harmonisation on what compostability means and what is globally applicable would be a great move of the regulations and a huge win for the planet.
What do you think are the main opportunities in this area or what future innovations do you predict in this area?
Neither the trend towards e-commerce shopping nor the trend to sustainable packaging is going away. Long-term there will be no successful businesses if climate neutrality, sustainability and the recyclability of product packaging is not considered.
We do see that even more pressure from consumers will make brand owners rethink their packaging. As everyone has a voice on social media, the choice of a responsible packaging concept will become a part of the marketing and will clearly be a success factor.
We have more interesting and innovative ideas in our laboratory's pipelines, and we plan to innovate in this market until we can offer a complete range of products for all applications, weights and shapes, which do not cause any worry when unboxing our clients' valuable goods.
The winners of the Sustainability Awards 2023 will be announced at the Sustainable Packaging Summit, which takes place in Amsterdam on 14-15 November. The Summit mobilises leaders of the FMCG value chain, policymakers, NGOs, recyclers and investors to collaborate, remove barriers and identify opportunities on the road to sustainable transformation.
To learn more or register, visit https://www.packagingsummit.earth/amsterdam2023/.