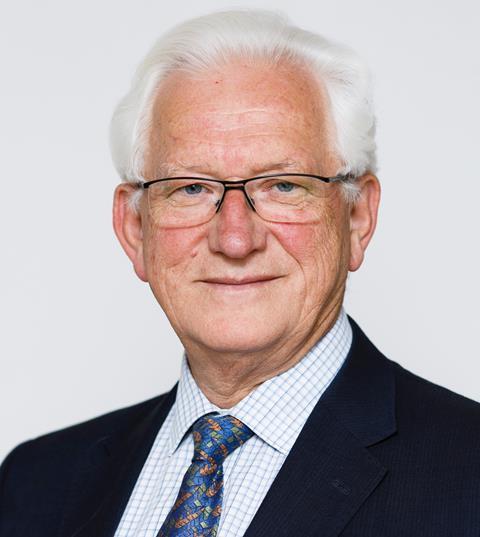 In our latest Finalist Interview for the Sustainability Awards we hear from Nextek's managing director Edward Kosior about its COtooCLEAN solution for recycling flexible films (polyolefins) back to food-grade plastic, nominated in the pre-commercialised Driving the Circular Economy category.
You're a finalist in the Sustainability Awards 2023. Congratulations! To start off, could you summarise your entry, in less than 50 words?
COtooCLEAN is an innovative, environmentally friendly solution that addresses the largest plastic waste stream – flexible films. This unique technology decontaminates post-consumer polyolefins back to food-grade quality, using super-critical CO2 (scCO2) to remove oils and inks.
Why do you think the judges were impressed with your entry? Tell us about what is innovative about your project and/or about its impact on packaging sustainability.
The process of recycling films back into food-grade material is being held back by the lack of technology. In the UK alone, only 8% of post-consumer film was recycled in 2021 and even then, these films were only turned into low-value products. Furthermore, existing film recycling processes are energy intensive and have a high environmental impact because they use hot washing, chemicals, and thermal energy.
On other hand, COtooCLEAN is a waterless cleaning process for polyolefin (LDPE, LLDPE, HDPE, PP) films (i.e soft plastics) based on low-pressure super-critical CO2 (scCO2) and green co-solvents. It removes oils, fats, and printing inks; effectively decontaminating these films back to EFSA food-grade standards.
By creating circularity within food-grade films the COtooCLEAN process will reduce demand for virgin resin and improve recycling rates of flexible films, and by creating a new recycling stream it will divert film waste from landfill and lower-value products. Compared to other industry practices, this process does not use water, caustic soda, or surfactants. Its only material inputs are CO2 and green co-solvents that can be reused in a closed loop.
ScCO2 is widely used in the extraction of components such as caffeine. It is a non-toxic, non-flammable and non-corrosive solvent that can be selective about the contaminants it removes using co-solvents. Dissolved contaminants can be isolated through a phase change, freeing the CO2 for reuse as a solvent.
This way the process does not produce aqueous waste containing impurities and contaminants, or decontamination solvents that could themselves be hazardous materials; as seen in some current industrial decontamination processes. COtooCLEAN also offers a solution to the EU's and UK's recycled content targets for food-contact applications, improving recycling rates and reducing the amount of 'virgin resin' tax that manufacturers would otherwise need to pay.
Greenhouse gas emissions can also be saved by replacing virgin resin with recycled content. The COtooCLEAN process has a low CO2 footprint, estimated to be 0.03kg/kg of processed recyclate based on comparisons with industrial decaffeination processes, which operate at similar temperatures and pressures but for much longer times.
An LCA [Life Cycle Assessment] by De Marco et al 2018 found that the decaffeination process has a carbon footprint of 1.43 kg CO2e / kg processed coffee. Extraction times for decaffeination are long (11.5 hours to 22 hours).
Initial trials for polyolefin film decontamination were significantly shorter, approximately 60 minutes, suggesting the carbon footprint calculation for polyolefin film decontamination could be at least 1/10th, i.e. 0.143 CO2e/kg of recyclate. It is expected decontamination times could be further optimised to 10 minutes; then the footprint of COtooCLEAN would reduce to approximately 0.03 kg CO2e/kg recyclate (i.e. 0.143/(10min/60min) = 0.0238).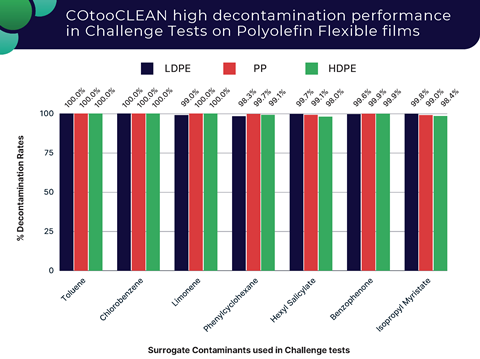 When and how do you intend to launch/commercialise this innovation?
COtooCLEAN is in the pre-commercialised stage, currently building a prototype to fully evaluate scale-up parameters, clean efficiency kinetics inform an LCA. The project has received recognition of its strategic importance from both UK Innovation & Research (UKRI) with funding to build the prototype, and from the Alliance to End Plastic Waste, with US $3M to build a demonstration plant.
You're shortlisted for the pre-commercialised category 'Driving the Circular Economy'. What do you see as the key demands and challenges in relation to circularity in packaging?
One of the key facets in achieving circularity in packaging requires maximising its lifecycle - boosting the duration that a plastic pack can continue to be recycled into another equivalent quality pack.
I believe our current approach to recycling plastic packaging is one of the biggest hurdles we must overcome. The current definition of recycling centers on converting materials from used products into new materials for other products, and historically this has been into lower value products.
However, now we have the technological capacity to go one major step further - and this is where we could make a transformational shift. Instead of merely recycling, we should be re-looping used products into high-quality materials and turning them back into high-value products.
We would simultaneously reduce waste, our carbon footprint, and our reliance on virgin resources. To make such a change we need to return to the 'plastic packaging design' drawing board and create a paradigm shift in the current design guidelines for circular packaging.
The guideline alterations I have in mind involve re-thinking inks and adhesives, striving for mono-material products, being more strategic with colours to aid in sorting and minimising contamination and the creation of closed loop systems where possible.
What do you think are the main opportunities in this area or what future innovations do you predict in this area?
The opportunities are very close at hand - we have the technology to sort and decontaminate post-consumer packaging - with a few changes to packaging design we could boost recycling. We can no longer expect that recyclers will somehow solve all the problems. We need to take a collaborative approach and this means universally adopting revised packaging design guidelines that boost recycling (or re-looping!). Packaging designers, brand owners, manufacturers, marketers, and recyclers can't afford to work in silos. Neither can they afford to sit back and wait for some shiny new tech to solve all the issues.
The winners of the Sustainability Awards 2023 will be announced at the Sustainable Packaging Summit, which takes place in Amsterdam on 14-15 November. The Summit mobilises leaders of the FMCG value chain, policymakers, NGOs, recyclers and investors to collaborate, remove barriers and identify opportunities on the road to sustainable transformation.
To learn more or register, visit https://www.packagingsummit.earth/amsterdam2023/.