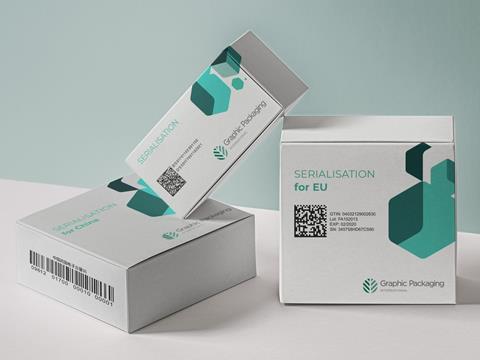 Graphic Packaging International has announced its new serialisation solution for packaging in the pharmaceutical sector, expected to combat the circulation of falsified medical products and facilitate pharma-compliance in data handling.
The company claims that its solution can accommodate long and complex coding requirements for markets around the world, including EU codes and C128 barcodes. This flexibility is hoped to enable it to gain popularity in international markets by adjusting to the requirements and specifications of various countries.
Each code is said to be printed to a high quality, resolution, and contrast, ensuring that scanners perceive the code as legible. With the World Health Organisation estimating that one in ten medical products in developing countries are substandard or counterfeit, and nations around the world implementing traceability legislation to ensure that patients receive safe and authentic medication, the solution is also thought to prevent the possibility of duplicates and ensure that any data handling that takes place is pharma-compliant.
Erwin Klünder, head of Sales and Healthcare at Graphic Packaging, said: "The increasing availability of counterfeit medications and other healthcare products is a real threat to patient safety around the world. An effective serialisation solution is more vital now than ever before.
"Our solution is compatible with a wide range of code specifications – even country-specific formats, such as Italian Bollini labels, and RFID applications. A truly state-of-the-art solution, it gives contract manufacturers and packers the flexibility to include any code format printed either onto the label or directly onto open or pre-glued packaging.
"All of this is carried out at our facility, easing the pressure on other parts of the supply chain by integrating into existing processes with no additional CapEx investment required."
Rich Quelch, global head of marketing at packaging design agency DiD, cautioned that the growing interest in smart packaging for pharmaceutical applications brought with it the looming threat of data theft. However, he told us that it can also enable efficiency within the supply chain and assist in tracking missing products, amongst other uses.
Excellis also expressed concerns that counterfeiters would take advantage of the COVID-19 pandemic during vaccine rollouts, warning EU manufacturers that they should scale up their processes and not ignore the EU-Alerts they received, even if they were likely to be false alarms. Smithers went on to predict that anti-counterfeiting technologies would experience a post-COVID boom as fears over medicines, pharmaceuticals, and vaccines provided opportunities for forgery.
On the other hand, Domino Printing Sciences launched the K600G, its blister foil and web digital printing solution for pharmaceutical applications, in 2020, said to allow for on-site variable data printing. This year, Giesecke + Devrient developed the SIGN authentication solution to tackle counterfeiting and product and brand piracy.