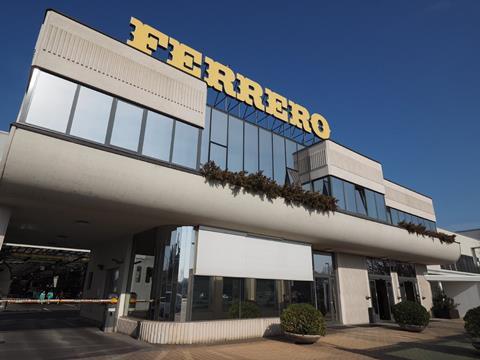 From designing for recycling to digital watermarking, we caught up with Fabio Mora, global packaging director at the Ferrero Group, to talk about all things sustainability.
In 2019 Ferrero committed to making all its packaging reusable, recyclable, or compostable by 2025. How are these plans progressing, and is there a roadmap towards achieving the final parts of these objectives?
We've laid out a road map of necessary steps required ahead of our targets for 2025, having completed a thorough mapping of packaging materials and policies. Our priority is to find long-term solutions for sustainable packaging that allows us to maintain our commitment to quality. This requires time, investment, and collaboration with all industry players.
As part of the commitment, we've carried out a raft of new activities and collaborations, both at a global, market, and brand level. Some of our recent activity includes:
We became a member of the Ellen MacArthur Foundation in which we'll take part in the New Plastics Economy initiative. As part of this, we'll join a group of leading businesses from across the entire plastics value chain, all committed to a common vision for a circular economy for plastic, in which it never becomes waste or pollution.
Our R&D department is constantly working on innovative and sustainable solutions, and has teamed up with key suppliers to develop eco-designed flexible and rigid packaging, such as mono-material flexible films and new light-weighted boxes, improving their recyclability profiles and minimising their overall impact on the environment.
With Nutella, we have joined forces with Loop – the leading reuse platform, and Carrefour for a reuse pilot scheme in France. Our jars can be returned to drop-off stations in-store, to be then cleaned, sanitized, re-filled, and used again in the same circuit.
We've joined the 4evergreen alliance that aims to boost the contribution of fibre-based packaging in a circular and sustainable economy that minimises climate and environmental impact.
Ferrero recently became involved in the HolyGrail 2.0 digital watermarking project. Could you break this collaboration down for us, and unpack the potential of the project as a whole?
We've joined the HolyGrail 2.0, facilitated by AIM – the European Brands Association as associate partner, as part of our commitment to innovation in plastic packaging sorting and investing in pilot projects to improve current sorting technology gaps. The project aims to prove the viability of digital watermarking technologies for accurate waste sorting, resulting in more efficient and higher-quality recycling.
Specifically, we recognise, with this pilot, the opportunity to put in place sorting for a dedicated stream of food packaging plastics that will, in turn, generate recycled materials stimulating circularity best practices.
In addition, your company also signed up to the Consumer Goods Forum's new rules on packaging design. Can you introduce these rules to our readers and explain how Ferrero is working to implement them?
We are constantly working to develop packaging and materials that are sustainable. Together with the Consumer Goods Forum, we have finalised the "Golden Design Rules", for the design of plastic packaging, with the aim of accelerating progress towards using less and better plastic. The latest design rules focus on eliminating unnecessary plastic packaging, by reducing headspace and plastic overwraps, as well as increasing recycling value in various types of plastic, including PET thermoformed packaging, flexible consumer packaging, and rigid HDPE and PP.
At Ferrero, we understand the need for alignment and scale to drive positive change globally, which is why we've signed the new Golden Design rules. As longstanding partners with the CGF, we share the organisation's vision that the transition to a circular economy requires a different approach to plastic usage, from production, consumption and reuse, to recycling and disposal.
Looking ahead, what's next for Ferrero in the realm of packaging sustainability?
As part of our commitment to making 100% of our packaging reusable, recyclable or compostable by 2025, we recently announced that our Ferrero Rocher chocolate range will have a recyclable box. The final design will be made from PP as this is easier to recycle globally, however, to maintain our "iconic" design the box will remain transparent.
Thanks to the 16-piece and 30-piece boxes, Ferrero Rocher will save approximately 2,000 tonnes of plastics globally in one year, from their introduction in September 2021. Once the implementation of the new eco-designed boxes is complete across the entire Ferrero Rocher box portfolio, the full impact of the project is estimated at approximately 10,000 tonnes less plastic used.
The new 16-piece and 30-piece boxes have at least a 30% lower carbon footprint versus the previous box. Additionally, when a box is recycled, it has an even lower climate impact – reaching a 70% lower carbon footprint versus the previous box.
The new eco-designed box is one major step, but it is not the entire Ferrero Rocher packaging sustainability journey. All box formats and non-recyclable packaging components will switch to new recyclable material by 2025 so that all components are recyclable by 2025.
We look forward to sharing further updates on our packaging sustainability journey soon.