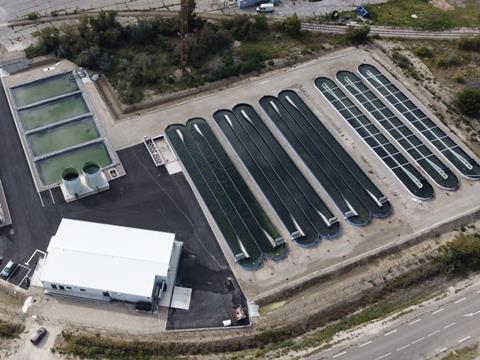 Eranova's Alg&Bag solution allows green algae found in the ocean to be combined with recycled plastics to make bio-based resins. These resins can then be used to produce a film for both rigid and flexible packaging applications, ranging from food trays to rubbish bags.
We spoke with Philippe Michon, co-founder of Eranova, about the company's aim to create bio-based products that offer environmental protection at every stage of their lifecycles.
Two challenges, one solution
Part of Alternative Plastics, initially established in 2005, Eranova is the result of what Michon describes as the search for "a truly sustainable bio-based product that would not be so demanding on the environment and that would also be recyclable". When appraising the bio-based industry, Michon notes feeling "surprised that these products were mainly derived from food crops using agricultural land, that needed fertilizers, irrigation, and a lot of energy".
The solution Michon and his co-founder, Philippe Lavoisier, eventually found "was in front of us, the ocean". Discussions that revolve around plastic packaging and oceans often focuses on the plastic waste that ends up in oceans, a key concern for consumers. While Eranova provides a potential solution to this end-of-life challenge, it also relies on oceans from the very beginning, turning a natural product linked with pollution – green algae – into part of the solution.
"The origin of the bio-based content is derived from sea or beach pollutants, and are defined as macro green algae," Michon explains.
There are many types of algae. While indeed a "natural product", it can also bloom excessively due to high nutrient content in bodies of water, a phenomenon called eutrophication that is sometimes the result of runoff from nearby fertilised agricultural land, deforestation, and sewage effluent.
Algae can become a problem for local ecosystems as it consumes the oxygen in water and blocks sunlight, creating 'dead zones' where wildlife cannot survive. It can also produce toxins that are harmful to human health, as well as making water unsafe for consumption and use. On Eranova's website, the proliferation of algae is linked closely with the climate crisis, and countries it reports will be impacted include France, the USA, and China.
When the algae is cultivated by Eranova, "we then transform this toxic natural product using the patented know-how that our scientists created," Michon says. Eranova's patents cover the reduction of the protein in algae to 75% by controlling its diet and the process, following protein reduction, of extracting starch from the algae. Michon says this is the company's "3rd generation of bio-based material".
Life cycle assessments (LCA) conducted by Eranova point to the potential environmental benefits of using algae for resin production, reportedly including a 30% reduction in fossil fuel usage. In addition, Michon tells us that "algae are capturing CO2 during their growth and during their treatment in Eranova's plant. 1kg of algae is capturing 1kg of CO2". Mechanical recycling "keeps the CO2 trapped", according to Michon, although he does acknowledge that composting the product would "release the CO2 into the atmosphere".
Overall, using algae "in combination with recycled material like PE or PP", Eranova has been able to "create a mechanically recyclable bio-based film for rigid or flexible products".
Not only does the recyclable status of Eranova's resins begin to address the challenge of ocean-bound plastics, but the concept itself is also built on mitigating the damage done by pollution and waste that has already found its way into the ocean. The solution therefore helps to protect ocean ecosystems throughout the product's lifecycle – a cyclical approach that considers where the product starts and ends, and how these are invariably linked.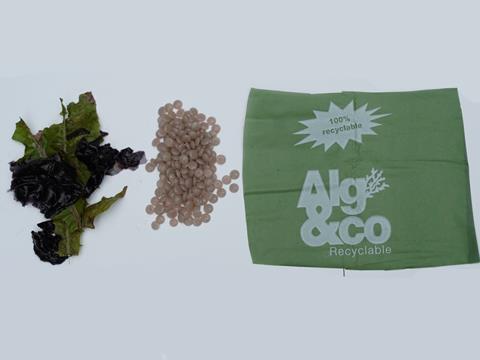 A simple but sustainable replacement
"The Alg&Bag is a family of flexible, odourless ,colourless bags using the resin that Eranova manufactures in the South of France," Michon says. "This resin raw material […] complies with EU food contact regulations, is recyclable, and can be used in rigid product formulations and flexible packaging such as PP in multilayer films like BOPP and coextruded PE products.
"The range is diverse and can be tailored made to virtually any specification."
One such application is garbage bags. The Alg&Bag garbage bag range was recently awarded the Carrefour Innovation Prize 2021, which means it will begin to appear on shelves in Carrefour supermarkets in France.
For consumers, the experience of using products made with Eranova's algae-based resin "will not be significantly different" from fossil-based products – but this is part of Alg&Bag's appeal. According to Michon, Alg&Bag offers "little to no compromise to performance", but consumers will have the additional benefit of knowing "that they are part of a carbon capture patented technology", which represents an "environmentally positive improvement on current [fossil-based] products".
As such, Alg&Bag offers consumers familiar products with integrated sustainability benefits. "This is a key moment to start the transfer to a carbon fossil free economy," Michon claims, wherein the everyday, recognisable, and practical products that consumers already use and need are "part of a significant positive trend in helping to preserve the planet's precious resources".
What's next?
"Alg&bag is the first of a family of Alg&Co solutions," says Michon. "We know the packaging industry is looking for innovation to reduce dependence on fossil-based resources but has been reluctant to move on some deceptive solutions."
Michon is clear that Eranova intends to provide viable and long-lasting solutions to both the causes and effects of water pollution: "We are patented, we have a factory, we are looking to scale up." With Eranova's Alg&Bag solution, Alternative Plastics is looking to maintain transparency in the bio-based plastics value chain and provide holistic environmental benefits for customers and consumers.