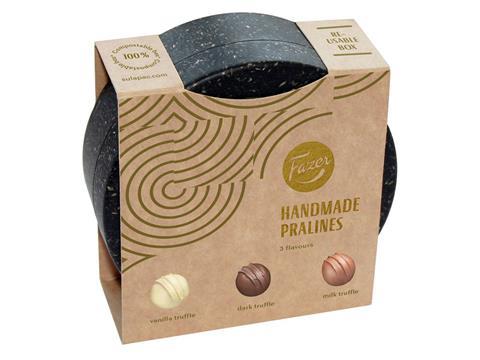 Fazer and Sulapac have collaborated to develop a microplastic-free, compostable packaging solution – available at the end of November.
The product makes use of the Finland-based Sulapac's material innovation, which is compostable and free of microplastics. The box will be available in the shop of the Fazer Experience Visitor Centre, in Fazer Cafés, Gateau bakery shops and online, in the Fazer Store.
The product development of the praline box lasted for almost 18 months. Fazer and Sulapac wanted to come up with an end product that is of premium quality and safe to both humans and the environment. The various phases of the product development included tests on the material's sensory suitability and the product's shelf life as well as the design and printing of the final concept.
Fazer is actively involved in discussions concerning the recycling and re-use of packaging materials, and the development of new kinds of environmentally friendly packaging solutions. "Consumers are making increasingly conscious choices when it comes to packaging. Fazer studies and tests new alternatives continuously, and we actively aim to improve the recyclability of packaging materials. We encourage consumers to recycle after the product has been consumed and are therefore renewing the markings concerning sorting on our packages as of the beginning of 2020," says Nathalie Ahlström, Managing Director of Fazer Confectionery.
Sulapac is a young Finnish growth company with a self-declared mission to save the world from plastic waste. The company develops recyclable materials and products that are entirely free of microplastics and made from renewable raw materials. Their product, Sulapac®, is an award-winning material innovation made from wood chips – which come from sustainably managed forests – and biodegradable binders. Fazer is the first food industry company to use this unique innovation in its packaging.
"We're proud to be furthering our vision in cooperation with Fazer. We need more bold pioneers like Fazer to be able to overcome the world's plastic waste problem," says Suvi Haimi, Sulapac's CEO.