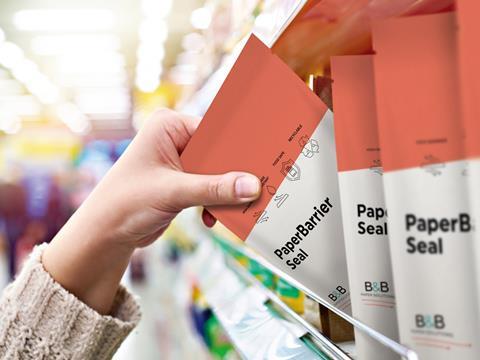 Coveris has collaborated with Austrian paper manufacturer Brigl & Bergmeister to develop PaperBarrier Seal, a packaging material for the food market that it says is fully recyclable and sustainably sourced, which will be unveiled exclusively at FACHPACK 2021.
According to Coveris, the new PaperBarrier Seal solution is part of its NO WASTE initiative. It reportedly reduces both packaging and product waste while offering the same functionality and product safety as existing alternatives, including plastic packaging.
The company adds that the PaperBarrier Seal is a paper-based material with a paper coating that apparently enables sealability, as well as remaining recyclable in existing paper streams. The material is available in three versions with different barrier properties: moisture, oxygen, grease, and mineral oils.
Jakob A. Mosser, CEO of Coveris Group, says: "With the launch of PaperBarrier Seal, Coveris expands its portfolio to another sustainable packaging alternative applicable for a wide variety of dried fruits, cereals, sweets, snacks, and even chocolate products.
"This new development was also a logical step in Coveris' NO WASTE strategy, which focuses on eliminating product waste from production and operations, enforcing recycling and second life approaches."
In addition, the PaperBarrier Seal solution provides comparable production efficiencies to standard packaging, according to the company.
Bernhard Mumelter, group innovation manager at Coveris, adds: "Thanks to the support of our colleagues at Coveris' Pack Innovation Centre in Halle, we successfully tested the new paper material on standard VFFS and HFFS packaging lines and confirmed a production speed up to 200 products per minute.
"This proves that the new PaperBarrier Seal solution can add real value to food brands looking for sustainable packaging alternatives that boost their product visibility on the shelves."
Coveris says that the PaperBarrier Seal solution took over two years to deliver due to "extensive" validation and testing, supported by its partnership with Brigl & Bergmeister.
Thomas Fabian, director of global business development at Brigl & Bergmeister, comments: "It wouldn't be possible to achieve this success in such a short time without the combination of paper and converting know-how of both companies, which should be a good practice for future developments."
PaperBarrier Seal will be launched at FACHPACK 2021 at the Exhibition Centre Nuremberg, running from the 28th to the 30th of September. Experts from both Coveris and Brigl & Bergmeister will be available to share details of the new packaging solution.