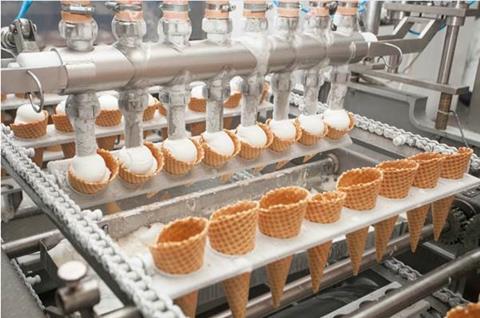 ExxonMobil is introducing Mobil SHC™ Grease 462 PF, an advanced NSF H1 registered high temperature synthetic lubricant for the food and beverage and packaging sectors. The grease delivers superior bearing protection for corrugator rollers operating at temperatures up to 240˚C and in the presence of moisture.
Mobil SHC™ Grease 462 PF is formulated for incidental food contact and is IFANCA Halal and Kosher & Parve product certificated. Its balanced formulation delivers enhanced product reliability and long grease life. This can help increase productivity and cut maintenance, thereby reducing human-machine interactions and enhancing safety.
Mobil SHC™ Grease 462 PF is a part of ExxonMobil's wider offer to the food and beverage industry, which includes Mobil SHC™ Cibus Series lubricants. These high performance lubricants are also NSF H1 registered for incidental food contact, and are Halal and Kosher & Parve approved.
In addition, Mobil SHC™ Cibus oils offer a range of benefits, including the potential to deliver significant energy savings - 3.6% in gear applications and 3.5% in hydraulic applications.
ExxonMobil's lubricants not only help reduce energy consumption, they can also cut waste oil disposal due to their long operational life. As a result, corrugators can improve their sustainability credentials, which is a key driver for many customers when selecting their packaging suppliers.
"A large percentage of corrugated card output is employed as transit packaging for food and beverages. It is therefore essential that lubricants that are NSF H1 registered for incidental food contact are used in corrugators," said Inken Reuser, EAME Offer Advisor. "Mobil SHC™ Grease 462 PF meets this requirement without compromising on overall performance. It is the latest addition to our food and beverage sector offer, which is designed to help operators achieve greater energy efficiency, productivity and cost savings across their business."
More info: