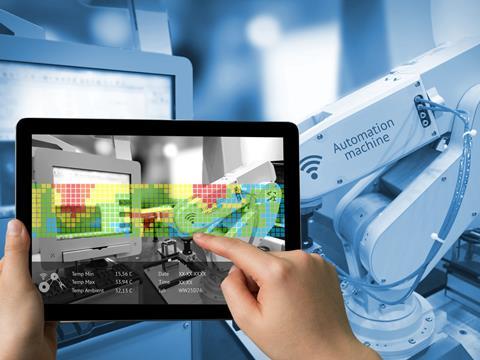 For learning and development programs to be effective and successful, they need to meet the users where they are. As programs equip employees with the knowledge and tools to be successful in their roles, it's no surprise that the industrial sector is utilizing augmented reality (AR).
AR is, in fact, a set of technologies that superimposes digital objects into the world of the user, effectively intertwining physical and digital components via an imaging device of some sort – a headset, goggles, a handheld computer such as an iPad, or even a mobile phone.
In an industrial context, that information might, for instance, be guidance in the form of text and graphics drawn from a remote database on how to disassemble a piece of equipment. Alternatively, it might be a 'live' instruction session in which a technical specialist viewing the same image as the user from a different location provides commentary and advice on performing a particular task.
Therefore, the essential point about AR is that, unlike the experience of virtual reality, which is totally immersive, AR mixes the real and the virtual. As Nina Tebbe, Head of Information Solution Business Central Europe for Rockwell Automation, says: "With AR, you can still see what is around you."
From that perspective, she sees AR as far more than just a smart technology. Instead, it can be targeted to "help achieve key success criteria" whether those involve dealing with fundamental changes in the business landscape or immediate cost and time-saving measures.
On the first of those counts, Tebbe cites the demographic change that is seeing the 'baby boomer' generation beginning to retire from the workforce. AR can help here by recording the experience and knowledge of senior personnel and then by making it available to newer staff who are taking their place. She also mentions that potential recruits from the younger generation will be 'digital natives' - already familiar with computer-generated graphics from recreational use of computers and digital communications and likely to be attracted to companies that use them as working tools.
Secondly, there is simply the potential for enhanced efficiencies provided by the ability of remote service and support personnel to view and assess images captured by on-site staff of, for example, malfunctioning equipment. This may allow immediate corrective action through the provision of guidance effectively making the on-site staff into 'experts,' or it may facilitate the despatch to the site of the appropriate specialist staff required to effect repairs.
Either way, time and money will be saved through the speed with which faults can be diagnosed and the obviation of unnecessary travel by external personnel. In fact, says Tebbe, AR is relevant "wherever a second pair of eyes may be useful." Rockwell's own provision of AR is through its Vuforia suite of applications which cover use cases as varied as support, expert capture, and training using information that can be generated from 3D CAD data or the scanning of real-world installations.
It is already attracting the interest of companies in the packaging and FMCG worlds. In the US, equipment supplier Aagard is looking to add AR to the portfolio of training services it provides to customers. In Canada, Maple Leaf Foods used AR to help explore ways of optimizing packaging line efficiencies.
As Nina Tebbe concludes: "AR provides a highly flexible set of capabilities based on established technologies that can provide solutions to real business challenges."