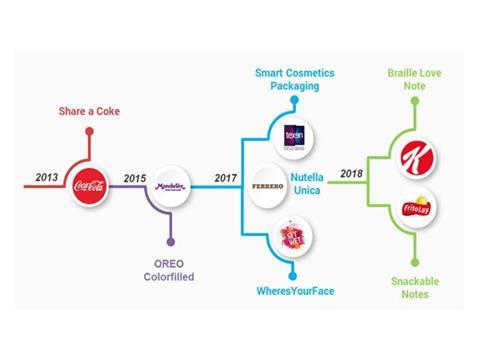 In today's shopping trends, customers, particularly millennials, are looking for not only the product but also the personal connection that products and brands have to offer.
Thuy Ngo, an Advanced Degree Researcher at PreScouter, a Chicago-based research intelligence company, explores how taking advantage of the trend, companies are exploring technologies such as digital printing and 3D printing as well as social media to create packaging tailored to consumers as individuals.
In a recent report published by PreScouter, a number of personalized packaging campaigns and companies were profiled. According to the report, most companies are "focusing on the diversity of products offered and the possibility for customization by clients, but not really on personalization by end users."
The research group detailed six personalized packaging campaigns run by leading companies such as Coca-Cola, Ferrero, and Kellogg's and profiled 10 companies offering personalized and custom packaging solutions.
Examples of personalized packaging campaigns
Share a Coke by Coca-Cola
Coca-Cola's "Share a Coke" campaign was first launched in Australia in 2013, and it is
still going on. The campaign has engaged directly with consumers in more than 100 countries. For the campaign, Coca-Cola replaced its logo on all bottles with 150 of the most popular first names, nicknames, and terms of affection in each country. Consumers then visit cokestore.com to create and personalize virtual cans on the website to send to Facebook and even order the customized bottles.
Coca-Cola partnered with Hewlett-Packard (HP) to create 800 million personalized labels using conventional printing technology with HP Indigo Digital Printing. Thanks to the campaign, the slogan "Share a Coke" had a strong call to action and convinced people to buy and share a coke. Coca-Cola sales grew more than 19% in the first year of the campaign.
OREO Colorfilled by Mondelez
The OREO "Colorfilled" initiative was launched in November 2015. Using a desktop or mobile platform, customers choose a black and white design that can be colored online or custom colored with markers that are home delivered. The price of each custom Colorfilled pack was $15, including $5 nationwide shipping for each order.
Nutella Unica by Ferrero
Nutella launched this campaign in February 2017 and relied on the brand's highly recognizable lettering, which meant other elements of the packaging design could be altered. Nutella "Unica," which means "unique," was exclusive for Italy.
Snackable Notes by Frito-Lay
The Snackable "Notes" campaign ran from July 8 through September 8, 2018. Parents wrote a note of love and encouragement directly on a talk bubble printed on their kids' favorite Frito-Lay Variety Packs flavor.
Braille Love Note by Kellogg's

This heartfelt Kellog's campaign, launched in August 2018 as a special feature on Rice Krispies Treats wrappers, aims to support blind and low-vision individuals in receiving "love" messages from their families and friends during snack time. Rice Krispies partnered with the National Federation of the Blind to create "Love Notes" in the form of heart-shaped braille stickers that match the spot for writing notes on the Rice Krispies wrapper. Each sheet has eight phrases, from "You've Got This" to "Love You Lots." For those who don't read braille or respond better to spoken words, Kellogg's offers a recordable audio box in which to tuck one Rice Krispies Treat.
The campaign generated tremendous sales and heartwarming feedback. Kellogg's received orders beyond the 7,500 Love Notes planned on the first launch. Kellogg's and the packaging received an A+ grade from parents
WheresYourFace by Set Wet
This campaign ran from May to June of 2017. Consumers joined the campaign by creating their own unique Set Wet can with their face and name on it via the Set Wet website. Free limited personalized deodorant cans of 150 ml were given to the winners selected by random computerized method.
Smart Cosmetics Packaging by Texen
According to the report, the researchers see Texen's idea as the most innovative. Texen, a player in cosmetic packaging, partnered with E Ink Holdings, an innovator of electronic ink technology, to digitize personalized packaging for the cosmetics industry. The personalized packaging allows consumers to put their names on their makeup compacts and perfume bottles or write personal messages to gift recipients.
Companies offering commercially available custom packaging solutions:
Some companies are offering stickers and cardboard packaging with full customization for end users, while others offer prescription packaging with barcodes and full information on the drug, quantity, directions for use, manufacturer, person drug is intended for, etc. Others offer a number of solutions for different types of packaging with varying degrees of personalization. Below are a few examples of some of these companies.
Owens-Illinois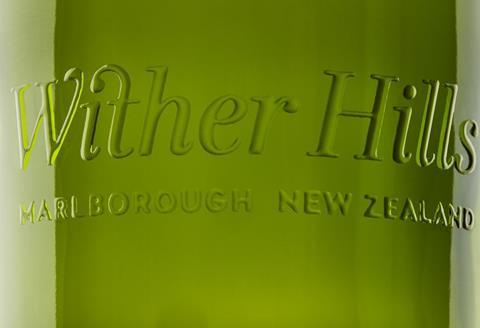 Owens-Illinois (O-I) was founded in 1903 as the Owens Bottle Company by Michael J. Owens, the inventor of the automatic bottle-making machine. O-I produces glass bottles and jars and has 77 plants in 23 countries. In September 2018, O-I launched O-I : EXPRESSIONS, a 3D digital printing innovation developed specifically for glass.
The line would enable brands to create highly personalized and customized glass packaging at flexible volume, industrial speeds, and affordable value, with an unprecedented range of color and design possibilities ideal for seasonal promotions, special events, or special language versions. O-I's EXPRESSIONS was noted as the best example of how "a transition towards more personalized/custom packaging can be seen in new product portfolios that are starting to emerge."
O-I : EXPRESSIONS RELIEF, which is named after the sculptural technique, is a premium version of the service. O-I : EXPRESSIONS RELIEF combines all the benefits of O-I : EXPRESSIONS with customized tactile effects, such as embossing and color embossing, with speed and ease. Such effects help brands interact with consumers through the sense of touch.
In April 2019, Lion New Zealand announced the deployment of a personalized bottle created on premises for its Wither Hills brand in collaboration with O-I.
Nosco
Nosco, founded in 1906, specializes in custom-printed packaging boxes and labels that enable brands to connect with their customers through variable graphics and text. The company has served more than 400 customers in the healthcare industry. Nosco was one of the four digital printers selected to deliver personalized labels in the "Share a Coke" campaign by Coca-Cola.
Nosco offers a complete end-to-end solution, from an online customizer to packaging printing. The Nosco printing facility is equipped with HP Indigo technology (HP Indigo WS6600 Digital Press and HP Indigo 30000 Digital Press) and a variety of finishing solutions, including a cutter-creaser from Kama.
Parata
Founded in 2001, Parata Systems offers an extensive pharmacy automation portfolio, building and supporting both vial-filling and pouch packaging solutions.
Parata's pouch packaging technology (PASS) assists independent and close-door pharmacies with pharmacy automation and makes it easy to customize pouches. PASS Packs simplify adherence for patients, giving them the confidence to take control of medication compliance. The easy-to-read packs clearly state the medication, dose, and time of administration. The barcodes offer full information on the drug, quantity, directions for use, manufacturer, person drug is intended for, etc.
Conclusions:
According to the Dr. Marija Jovic, PreScouter Project Architect, "it seems that we are on the verge of the personalized packaging era, with customer demand as the main opportunity for growth." However, as the cost for such packaging will be higher, packaging professionals seem to be skeptical about whether consumers are really ready to pay the premium for their tailored content.