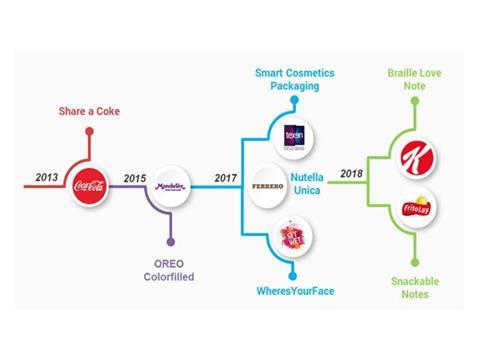 Owens-Illinois (O-I) was founded in 1903 as the Owens Bottle Company by Michael J. Owens, the inventor of the automatic bottle-making machine. O-I produces glass bottles and jars and has 77 plants in 23 countries. In September 2018, O-I launched O-I : EXPRESSIONS, a 3D digital printing innovation developed specifically for glass.
The line would enable brands to create highly personalized and customized glass packaging at flexible volume, industrial speeds, and affordable value, with an unprecedented range of color and design possibilities ideal for seasonal promotions, special events, or special language versions. O-I's EXPRESSIONS was noted as the best example of how "a transition towards more personalized/custom packaging can be seen in new product portfolios that are starting to emerge."
O-I : EXPRESSIONS RELIEF, which is named after the sculptural technique, is a premium version of the service. O-I : EXPRESSIONS RELIEF combines all the benefits of O-I : EXPRESSIONS with customized tactile effects, such as embossing and color embossing, with speed and ease. Such effects help brands interact with consumers through the sense of touch.
In April 2019, Lion New Zealand announced the deployment of a personalized bottle created on premises for its Wither Hills brand in collaboration with O-I.
Nosco
Nosco, founded in 1906, specializes in custom-printed packaging boxes and labels that enable brands to connect with their customers through variable graphics and text. The company has served more than 400 customers in the healthcare industry. Nosco was one of the four digital printers selected to deliver personalized labels in the "Share a Coke" campaign by Coca-Cola.
Nosco offers a complete end-to-end solution, from an online customizer to packaging printing. The Nosco printing facility is equipped with HP Indigo technology (HP Indigo WS6600 Digital Press and HP Indigo 30000 Digital Press) and a variety of finishing solutions, including a cutter-creaser from Kama.
Parata
Founded in 2001, Parata Systems offers an extensive pharmacy automation portfolio, building and supporting both vial-filling and pouch packaging solutions.
Parata's pouch packaging technology (PASS) assists independent and close-door pharmacies with pharmacy automation and makes it easy to customize pouches. PASS Packs simplify adherence for patients, giving them the confidence to take control of medication compliance. The easy-to-read packs clearly state the medication, dose, and time of administration. The barcodes offer full information on the drug, quantity, directions for use, manufacturer, person drug is intended for, etc.
Conclusions:
According to the Dr. Marija Jovic, PreScouter Project Architect, "it seems that we are on the verge of the personalized packaging era, with customer demand as the main opportunity for growth." However, as the cost for such packaging will be higher, packaging professionals seem to be skeptical about whether consumers are really ready to pay the premium for their tailored content.