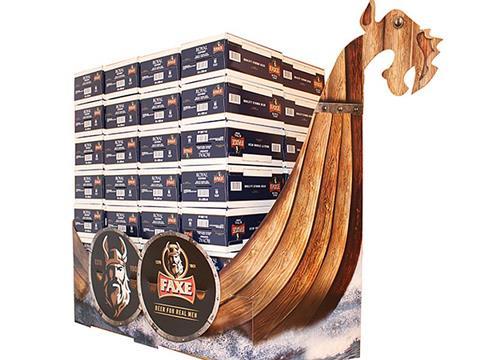 DS Smith has designed and created an eye-catching Viking ship display to help Royal Unibrew's export brand, Faxe Beer, improve brand recognition among customers in Europe.
Faxe Beer, Royal Unibrew's latest brand, is still a growing product in markets outside of Denmark. The beverage producer approached DS Smith for a dramatic, in-store display to raise the brand's profile and draw in customers across Europe.
Taking inspiration from Faxe Beer's Viking head logo, DS Smith's team of specialists designed and created a huge corrugated Viking ship to be placed in stores throughout Europe. The dragon head was printed and positioned at the front of the ship, with shields at the sides to complete the look, amplifying the brand's story to customers as they shop.
DS Smith designed the display to be a fully adjustable, modular design, meaning the size of the display can be tailor made to suit each store, depending on available floor space or number of pallets.
Regardless of size, the finished product - a spectacular and creative display unit – is unmissable in stores across Europe.
This latest design follows the success of DS Smith's previous work with Royal Unibrew, where the packaging specialist created the Unibrew truck display for BILKA hypermarkets in Denmark.
Jesper Dalby, International Marketing Manager, Royal Unibrew, said: "The process of developing the display has been fantastic. The Viking ship concept matched our branding perfectly and its flexible design has been instrumental in allowing us to distribute the display to stores both large and small across the continent. We are very pleased with the finished result and have received great feedback."
Steen Brockstedt, Account Manager of DS Smith, said, "Packaging and displays can be really effective marketing tools when designed carefully and with a brands core identity in mind. The corrugated Viking ship display has done just that – transforming the way customers recognise and interact with the Faxe Beer brand and ultimately improving sales long term."
More info:
www.dssmith.com