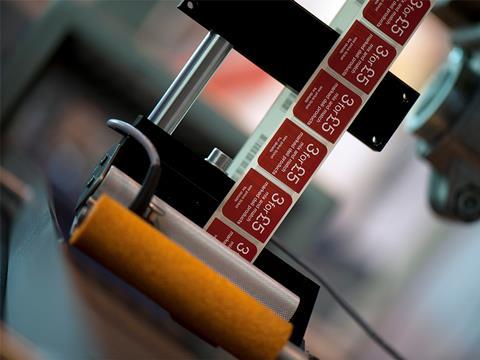 In our third drupa interview Jules Lejeune, managing director of FINAT (the international association for the self-adhesive label industry) provides a point of view from the world of labelling.
TS:
As we look ahead to drupa, what do you see as the most significant current trends and areas of technological advance in print from a labelling perspective?
JL:
A key trend remains the coming together of digital and analogue print technologies for label and packaging print. Enhancements like UV/EB curing, will make it possible for the label printer to embrace both short and long print runs and a wider portfolio of label formats, from self-adhesive and wet glue labels to wraparound, in-mould, shrink- and stretch-sleeve labels, and even flexible packaging.
The addition of QR codes and other devices, printed electronics and personalisation as part of label print is also expected to grow in 2016.
More than 20 per cent of the label converters in Europe are now offering more than just self-adhesive label solutions. Of all the non-self-adhesive markets, adoption rates among European converters remain highest in the sleeve sector. Western Europe is the globe's second largest consumer of sleeve labels after Asia, and the region's projected growth rates over the next five years for sleeves is estimated at two to three per cent per annum. One out of five converters are already active in printing of in-mould labels. While the technology only has an estimated two per cent share of the labelling market worldwide, in?mould continues to grow as new application opportunities open up in the food, beverage, personal care and nutraceutical sectors. The European in-mould market is projected to grow an estimated two to three per cent annually over the next five years. Other growth areas include the European stand-up pouch market which is forecast to grow at 5.5 to 6.5 per cent per annum over the next five years, more than twice the projected volume growth in the region's flexible packaging sector as a whole.
TS:
What questions might FINAT members go to drupa hoping to answer?
JL:
What are the key future trends I should be aware of as I think about the future of my business? What should be my next investment? How do I improve my production performance, and in turn, my profitability? How can I work more closely with my customers? What markets should I look toward to win and build new business?
TS:
In what ways are developments in print technology affecting the labelling industry?
JL:
FINAT's RADAR report found that digital production represented 10.7 per cent of total aggregated sales revenues of all participants. This number is just slightly higher (1.5?2 per cent) than the conventional/digital breakdown of the region overall. Digital sales revenues averaged 17.7 per cent for the entire respondent group that indicated they have digital presses.
Some other key findings were: that the difference between planned digital technology investment in inkjet (54 per cent) & toner based technologies (46 per cent) is very small; more than 30 per cent of converters are planning investment in at least one press or other type of equipment; more than 50 per cent have planned digital press investments in inkjet; and more than 20 per cent of converters are already active in sleeves, flexible packaging or in-mould.
The report found that the global labelling sector continues to see a steady decline in average run lengths. FINAT's most recent survey asked respondents to break down run lengths per end-use vertical for both their conventional jobs, as well as their digital jobs (for companies that had digital presses). Conventional remained the clear leader in in the food and beverage sectors. It is also interesting to note that digital run lengths for eight out of 11 sectors fall within a range of 266 - 769 linear meters per job.
TS:
What are the key developments in retail trends and regulatory affairs that are having an impact on labelling at the moment?
JL:
Label volumes will continue to increase in 2016 despite the growth of internet sales. This is because a product's primary label still represents the prime medium for establishing branding and the first contact with a potential customer. The move to shorter label print runs and just-in-time delivery will also continue while international health and safety legislation will make demands on the available space on a label. This will particularly be the case as far as food labels are concerned, encouraging the use of such options as multi-layer leaflet labels, linerless labels and clear film labels on clear container substrates (the 'no-label' look) where back print on the label is possible.
TS:
How would you describe the market outlook for the European self-adhesive labelling industry?
JL:
In 2015, demand for self-adhesive label materials in 30 European countries reached 6.7 billion square meters (roll and sheet materials together). This was an increase of 5.4 per cent compared to the previous year (in 2014, year-on-year growth was 5.7 per cent).
When you look at specific demand over the last two decades, there has been a rapid emergence of high-end, filmic roll label applications as a vehicle for product decoration and identification applications. Non-paper roll label materials now account for more than 25 per cent of the total labelstock demand in Europe (back in 2000 this was only 15 per cent).
Paper roll demand over that same period more than doubled, with paper rolls still holding a solid 70 per cent share of total demand in 2015. This points to ongoing growth in filmic label being the result of acquisition of new business generated by product development and process innovations, and not a substitution.
Regionally, the emergence of eastern European markets as a significant factor is evident from the fact that these markets almost doubled their share in total European labelstock demand to 21 per cent in 2015. The top five countries in Europe (Germany, UK, Italy, France, Spain) still account for 60 per cent of the total label market volume in Europe.
TS:
Not long after drupa, FINAT is staging its own event: the second European Label Forum (ELF) at the Moevenpick Hotel in Amsterdam from 16-18 June. Could you please tell me about the format and aims of the forum?
JL:
The European Label Forum will kick off with futurologist Magnus Lindkvist will present an outlook of the disruptive trends that will ultimately impact the future for labels and packaging. The first morning will also feature smartphone interactivity via Buzzmaster when Rens de Jong, Business News Radio talk show host and moderator of the year in The Netherlands, will conduct interviews with key stakeholders.
The ELF programme will focus on value creation and innovation, and there will be interactive parallel workshops on the respective topics. The FINAT RADAR and labelstock market reports will be presented by FINAT's MD Jules Lejeune, VskE's correspondent Herbert Knott will summarise drupa 2016 developments. The transfer of knowledge and education all starts at the top. Business leaders will therefore be encouraged to compete in teams and test their knowledge at hand from the various Label Academy modules available during the so called 'Label Masters Challenge'. To conclude, former Formula One racing executive Mark Gallagher will present an 'outside in' perspective of a winning and innovative future.
TS:
Among the topics to be discussed at the Forum are the importance of value creation and of collaborative innovation. Could you expand on these ideas?
JL:
Value creation and innovation are two sides of the same coin. On the one hand, label printers are servicing mature, competitive markets and are facing the challenge to differentiate their existing product and solutions and avoid commoditization. On the other, the European Label Forum 2015 taught us that end-users are more and more open to work with their strategic labels and packaging suppliers on the joint development of new solutions.
To accommodate both aspects of healthy business development, FINAT is hosting two interactive parallel workshops that will enable participants to gain new insights, tools, tips and skills that will help them and their business to enhance profitability. We encourage business leaders to take advantage of this dual opportunity by bringing colleagues in charge of sales and marketing as well as product development.
TS:
What are FINAT's broader organisational priorities this year?
JL:
The newest FINAT project will look at best practices and legislation related to release liner recycling initiatives in the EU member states in order to better understand unique geographic and legal challenges and how these can be met. This report will be officially presented at the European Label Forum 2016.
Together with our American sister organization TLMI, FINAT has just released a harmonised LCA Guidance Document. More and more members of our respective organisations are facing questions from customers about the environmental impact of their products during their life cycle. Purpose of this document is to help our members to understand the principles and goals of LCA, get insight in the overall environmental impact of their products and the main 'hot spots', identify improvement opportunities, increase the innovative and operational performance of their organization etc.
There are a number of planned webinars, too, designed by the New Converting Technology taskforce in close cooperation with FINAT's Young Managers Club, which offer the latest updates on management, technology and sustainability developments.
Scheduled FINAT webinars:
12 May 16.30 hrs CET: LCA Harmonised Guidance Document
7 July 14.00 hrs CET: Brand certification - GMI
22 September 14.00 hrs CET: Colour proofing/standardisation
20 October 15.00 hrs CET: Succeeding with an excellent pitch, by Jacob Kiblböck (hosted by FINAT YMC)
24 November 14.00 hrs CET: Succession Planning (hosted by FINAT YMC)