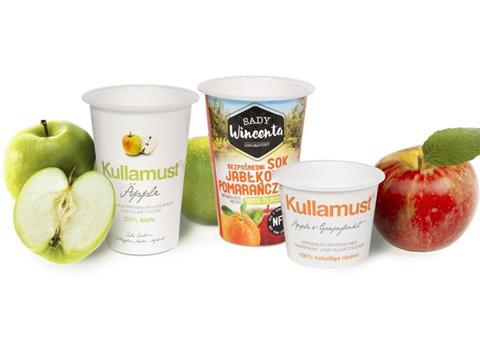 Coveris Rigid Polska has announced that DuoSmart® cups have a strong foothold in healthy food and drink packaging in the Polish, Slovakian and Swedish markets.
Poland's own Sady Wincenta has found great success with DuoSmart® cups in the Polish and Slovakian markets. With a special plastic membrane, the attractive DuoSmart® cup is perfectly suited for Sady Wincenta's fruit and vegetable juices because it protects the nutritional value, natural color, aroma, and taste of juices. The cup is rigid, making it optimal for handling liquid contents, and is a functional plastic with an attractive appearance of paper. These features make DuoSmart® the ideal choice for fruit and vegetable contents such as juices, mousses, desserts, and fruit snacks.
Another DuoSmart® cup success is found in Sweden, where Kullamust offers apple juice in the cup. Sealed with an aluminum lid and special plastic membrane that protects from spatter, the cups are especially useful onboard airplanes and other areas where spatter is of concern.
DuoSmart® cups are also ideal for use in schools thanks to their nutritional protective qualities and their ready-to-consume ability, making a healthy snack convenient.
With healthy food trends in full swing, and a focus on healthy drinks, Coveris' DuoSmart® cups are breaking the mold and offering a new option on the market, which is normally dominated by glass and HDPE bottles and cartons. DuoSmart® cups continue to prove their benefits and multifunctionality as an excellent alternative to typical packaging solutions.
More info: