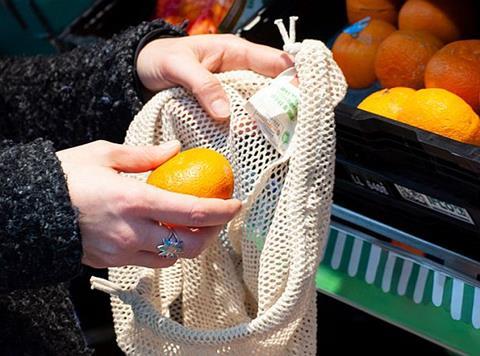 As the first discount supermarket chain in Germany, PENNY is introducing a reusable cotton bag for fruits and vegetables.
Within its sustainability strategy "Avoid, Reduce, Improve", the retailer let customers decide whether they preferred polyester bags (costing .49 EUR for two bags) or cotton bags (0.99 EUR for two bags during a trial period .
A clear majority of customers chose the cotton bags. Consequently, the cotton bags will be available in all 2,200 PENNY supermarkets in Germany. Existing stock of the polyester bags will be sold but won't be available after that.
"PENNY would like to work on the important topic together with our customers and establish it further in our product range. I am pleased that so many of our customers took part in the test and that the result was clear. The cotton used for the bags comes from certified, sustainable cultivation. The bags are robust and can be reused many times. I'm convinced that we will be able to reduce the amount of bags we provide our customers with," says COO PENNY and REWE Group Divisional Director of Trading Germany Stefan Magel.