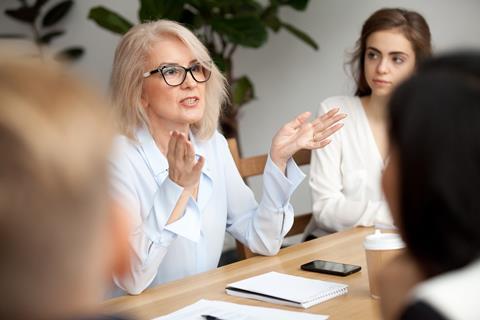 Given the complexities of sustainable packaging, are key stakeholders doing enough to embrace the realities and trade-offs that may be required to make advancements? Gartner Supply Chain's senior director analyst, John Blake, tells us more about how companies can avoid "hype cycles" in the future.
Pack Expo 2022 was held last October in Chicago, marking its return as an in-person event after a four-year hiatus. About 44,000 supply chain and packaging professionals attended this four-day event. I was particularly interested in the innovations and status of sustainable packaging compared to the last time this event was held in 2018.
Pack Expo 2018 was notable for the excitement around the new commitments that organizations were putting in place for sustainable packaging. Many big brands and packaging suppliers committed to plastics reduction and recycling of their packaging. A common theme has been promises to convert plastics to packaging that is reusable, recyclable, or compostable. There has also been a focus on eliminating traditional plastics altogether.
However, as we entered the final quarter of 2022, the underlying tone for sustainable packaging at Pack Expo was very different. We're approaching the milestone year of 2025, by which many sustainable packaging promises are due to be delivered. There is an awareness (although we still are short of a full acknowledgment) of the pending challenges to delivering on the common set of promises.
Gartner's research on consumer preferences for the type of sustainable packaging they desire and the messaging they want to see on packages helps to explain why leading brands have chosen their sustainable packaging goals. Consumers seek packaging that is recyclable, reusable and made from recycled content. Often, consumers don't truly understand the implications of these terms, but they make them feel better about their purchase decisions and the brands they frequent.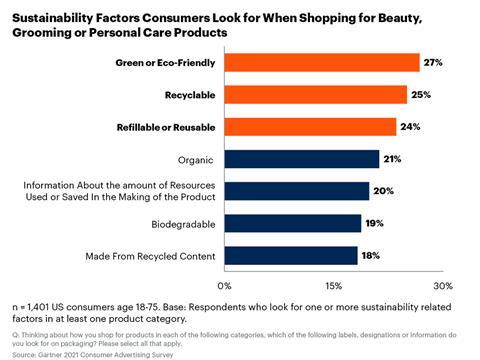 In 2021 Gartner predicted that 90% of organizations will fail to meet their 2025 sustainable packaging goals. The press release was picked up by many trade publications, but there was no rebuttal nor confirmation by brands, suppliers or consortia. However, at the end of 2022, the Ellen MacArthur Foundation, with more than 1,000 signatories committing to the reduction of traditional reliance on plastics packaging, stated for the first time in their 2022 Global Commitment Progress Report that targets "will almost certainly be missed by most organizations."
The reality of sustainable packaging is that it's complicated. With the benefit of hindsight, we now see that the early adopters, while setting ambitious well-intentioned goals, failed to vet the promises against financial, technical or operational feasibility. In many ways, the packaging industry and packaged goods brands fell into a cycle of playing "follow the leader." A hype cycle for sustainable packaging shows the 2018 innovation trigger of corporate goal setting is quickly hitting a peak of inflated expectations and we start to recognize the inability to meet 2025 commitments.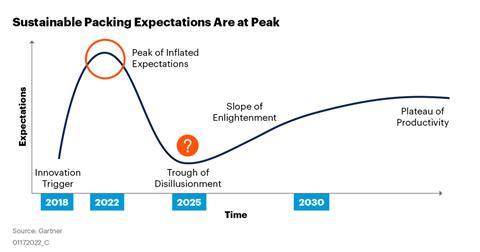 The problem with many of today's sustainable packaging commitments is that they have little-to-no viable paths to becoming reality. The other problem is that this information is not getting to executive leaders.
Our products and packaging — and with that our entire supply chains from supplier infrastructure to our manufacturing through to our customers' operations and consumer expectations — have been developed to be highly functional at the lowest possible cost. Much of this has been enabled with complex packaging that was designed to be cost-effective and functional, not recyclable or reusable.
Where organizations have found suitable replacements for existing packaging, they often find that they are faced with significant capital expenses. In other cases, the cost of alternative packaging can be much higher. Studies now find that many of the new packaging materials and formats do not perform as well as their replacement, bringing new issues related to quality and product protection.
Brand owners also find that new packaging materials, such as bioplastics, do not have a pathway to being recycled, so the waste issue can be made worse. Sometimes there is just no current viable alternative to plastic packaging, such as in protecting food products and delivering lifesaving medical devices.
However, we are seeing progress through continued R&D and focus on innovation. For example, we are seeing the commercialization of paper-based packaging replacing traditional plastic films for some food products and personal care items. Another common approach is replacing expanded polystyrene (Styrofoam) cushioning with molded pulp fiber, which can be widely recycled with other papers. But we must be careful not to assume a solution for one application is suitable for all applications.
The key to driving real progress is to approach goals pragmatically, looking first at the viable paths both short and long-term. With that, we should also be open to setting aspirational targets, sometimes called moonshot goals, to challenge ourselves and our respective industry ecosystems to launching breakthrough innovations where needed.
We also must be strong enough to address the realities of sustainable packaging and leverage what we have learned over the past five years. And finally, we must be transparent internally and externally and be willing to reset expectations and promises where needed.
As we move into 2023 and closer to 2025, the milestone year for sustainable packaging, will we embrace the fact that sustainable packaging is complicated? Will we be transparent with our customers, consumers, and executive leaders? Will executive leaders be the last to know?