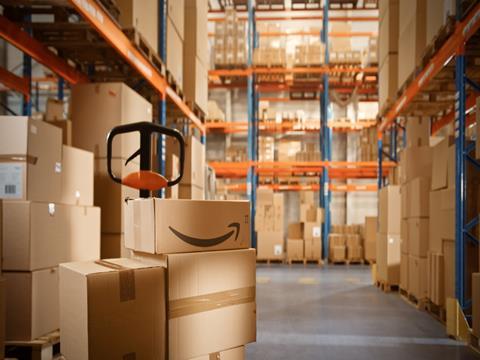 E-commerce giant Amazon has taken a recent interest in eco-friendly packaging, particularly in its usage of paper and cardboard. Even so, the company is no stranger to criticism for its environmental practices. With the catastrophic impacts of climate change leading to conversations about corporate greenwashing, Emma Liggins asks if Amazon is doing enough to make its packaging sustainable.
Large lettering on Amazon's website proclaims that it "work[s] to reinvent and simplify our sustainable packaging options using a science-based approach that combines lab testing, machine learning, materials science, and manufacturing partnerships to scale sustainable change across the packaging supply chain."
Even so, the company is no stranger to criticism for its environmental practices. With the catastrophic impacts of climate change leading to conversations about corporate greenwashing, is Amazon doing enough to make its packaging sustainable?
Ideally, it says, each of the millions of orders it receives every day would be packaged in boxes tailor-made to the size of the product, reducing corrugate waste. Yet it also claims that its ever-changing catalogue, alongside its practices of shipping products in shared boxes, makes this dream impossible.
Its answer to the problem is PackOpt, a web-based tool that will supposedly reduce Amazon's annual cardboard waste from seven to ten percent and save 60,000 tons of cardboard every year.
The program is said to require two inputs – shipment data from the region in question, and the dimensions of the boxes stored at the current location. It should then identify which of the available boxes would be the most efficient to use, both in terms of sustainability and economy. It is also claimed that the tool differs from country to country, optimising its functions based on customer habits in any given place.
PackOpt's success would not only cut down on cardboard waste but would, allegedly, help Amazon to reach net-zero carbon emissions by 2040 in accordance with its Climate Pledge. This is a relatively new approach for the company. Until 2019, Amazon would not release any data regarding its carbon footprint. It has since pledged to fulfil the goals of the Paris Climate Agreement ten years early, but some still doubt the company's commitment to sustainability.
Anastasia O'Rourke, managing director of the Yale School of the Environment's Carbon Containment Lab, was optimistic in an interview with WBUR last year. She commented, "I do think Amazon is making some pretty big financial commitments to the innovation end of the spectrum, realizing that they have these really hard-to-avoid emissions right now where there really isn't sustainable aviation fuel, for example, of sufficient quantities that they would need, and still run their business the way they want to run it.
"I'm actually fundamentally pretty excited that they're taking such a big stance right now. And putting both their financial resources into it, as well as their staffing and their sort of analytical prowess to helping find solutions here."
However, a report conducted this year by the NewClimate Institute in collaboration with the Carbon Market Watch named Amazon in a list of companies they accuse of exaggerating their sustainability claims by 60%. A recent update in Amazon's sustainability report admitted that its carbon footprint grew by 18% in 2021, citing rapid expansion during the COVID-19 pandemic as a contributing factor to the 71.54 million metric tons of carbon-dioxide equivalent emitted last year. The rise comes after another 19% increase in 2020, as reported by CNBC.
To that end, the company is not only held accountable by environmentalist organisations. Employee group Amazon Employees for Climate Justice previously organised a petition, signed by 640 Amazon employees, calling on Amazon to raise its emissions goals and address the disproportionate impact its alleged environmental shortcomings have on Black, Latino, Indigenous and immigrant communities in America and beyond.
But the company's biggest enemy seems to be its own unrecycled plastic packaging. At least 8.8 million tons of plastic enters the ocean every year, according to a study conducted in 2015. Four years later, a report conducted by ocean conservation charity Oceana suggested that Amazon alone had calculated 465 million pounds of plastic waste in 2019. A significant portion of that figure came in the form of air pillows, which Oceana predicted was substantial enough to wrap around the Earth itself over 500 times.
Amazon refuted these accusations in an email to Forbes.com, claiming that the figures had been inflated by 350% and pointing out its status as a founding member of The Climate Pledge. Yet Oceana monitored the company's packaging waste throughout the pandemic, warning that the boom in e-commerce had resulted in 270,000 tonnes of wasted plastic.
This is not a problem that seems to be going away; Amazon itself concedes that certain packaging it uses, such as plastic film, is not yet suitable for kerbside recycling. Greenpeace has previously alleged that Amazon's packaging is either completely unrecyclable or largely invaluable in the recycling industry, and an ongoing Change.org petition calls for the company to implement plastic-free packaging into its delivery services.
Former Amazon executive Rachel Johnson Greer expressed her scepticism in a 2020 interview with Oceana. "Dunnage is something that Amazon can remove almost immediately," she said. "I don't know why they're so focused on those little air pillows. They don't actually protect anything, and they waste packaging. Amazon put air pillows in with my cat litter – why? It doesn't make any sense."
Not only is non-recyclable packaging used needlessly, according to Greer, but it is also a waste of money. She claimed that purchasing the air pillows themselves, maintaining machinery and stopping factory lines to fill packages all cost Amazon more money than foregoing air pillows altogether. Instead, she suggested a SIOC (Shipped in Own Container) system, which would encourage other companies to reduce the amount of plastic in their packaging.
This idea is not dissimilar to Amazon's Frustration-Free Packaging initiative, founded in 2008. Customers can select this option at checkout to receive their items in protective, easy-to-open and recyclable packaging. However, this option is not available for every product on the site, and although Greer claimed to have had positive experiences with Frustration-Free, she expressed further reservations with Amazon's packaging policies.
"Amazon has the technical ability with its fulfilment centres to offer plastic-free alternatives to its customers, reduce plastic, and help protect the oceans and the environment," she stated. "It is really a question of will.
"If Amazon says something, everyone pays attention. If they gave all those that sell on their Marketplace a year to go plastic-free, within a year everything could change on Amazon."
O'Rourke, too, gestures towards the advantages Amazon has – dominion over the market, and millions of loyal customers, all of whom she believes would follow its example into a sustainable future.
Oceana's report found that, in a sample of 5000 Amazon customers from the UK, US and Canada interviewed in 2020, 86% were concerned about the impact of plastic pollution on the planet. 23% of Americans surveyed by WWF this year believe that plastic waste pollution should be a top-five priority issue to be addressed by congress. Customers are seemingly paying attention to the impact non-recyclable packaging is having on the planet.
Whether Amazon will rise to the challenge remains to be seen. It maintains that the recycled content of its plastic padded bags rose from 15% to over 40% in 2021, its plastic film bags from 25% to 50%; that its European branches have switched from single-use plastic delivery bags to recyclable paper ones or cardboard envelopes. As promised, it has announced its intent to launch its new packaging algorithm globally this year.
Yet our post-COVID world has become more reliant on e-commerce, and until it can counteract the increase in customers with a decrease in waste, Amazon may continue to face dissatisfaction from customers and spectators alike.