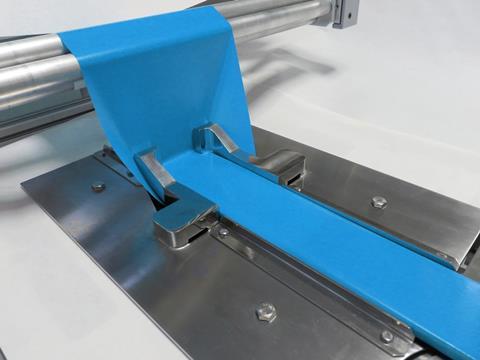 We spoke to FormerFab GmbH about being finalists in the 'Machinery' category of the Sustainability Awards 2022 with its horizontal forming shoulder for paper with asymmetrical seams, which is aimed at making it easier for brands to switch to paper solutions without compromising on performance.
You're a finalist in the Sustainability Awards 2022. Congratulations! To start off, could you summarise your entry, the horizontal forming shoulder for paper with asymmetrical seams, in less than 50 words?
Thank you very much for the congratulations!
Paper-based flow packs standardly include a central longitudinal seam. With this new development of an off-centre longitudinal seam you have now the same opportunities like with plastic film. We give brands completely new possibilities for designing their bags and make it easier for them to switch to paper solutions.
Why do you think the judges were impressed with your entry? Tell us about what is innovative about your project and/or about its impact on packaging sustainability.
First of all thanks to all judges for voting FormerFab GmbH with this new product to the final in Lisbon. Our new development solves a basic problem, the design variety of flowpacks for paper.
Design plays a big role in today's packaging world, if you want and need to stand out among other products on supermarket shelves or maybe also at packaging awards. That's why it's important to offer producers and packagers an alternative to the norm.
Paper-based flowpacks standardly include a central longitudinal seam. From now on, brands are no longer bound by this. They can design the back of their flowpack the way you need it. Brands can also create perfect flowpacks with an off-centre longitudinal seam using the forming shoulders from FormerFab. With precision and a little bit of experience, paper can be formed just as well as plastic film with the existing form fill and seal machines. Film tears or wrinkles on the paper do not have to occur. The barrier layers of the paper are stressed as little as possible so that they are preserved as far as possible.
Therefore, the forming shoulders can be used for secondary packaging as well as for primary packaging for fat-containing products such as chocolate.
The forming shoulder itself is optimised for the respective application, packaging material, and machine type. It can be used immediately by the user and saves valuable time at the packaging machine for setting up the forming shoulder.
And at the end, we hope to alleviate some of the brand owners' fears and make it easier for them to switch to paper solutions.
How has your innovation/initiative been received?
Continuous internal development and the requirements of our customers were the main factors to getting this solution at the end.
Being one of three companies in the world, that can exactly calculate forming shoulders, our experiences from previous projects and some solutions that are patented or patent pending were the magic mix for this worldwide unique forming shoulder.
You're shortlisted for the Machinery category. What do you see as the key demands, challenges and opportunities in relation to machinery in packaging?
Specifically in our area, we need to teach machine manufacturers to create more space for our forming shoulders to form the new materials of the packaging companies as gently as possible. The biggest challenge is probably to adapt all machine parts and functions on the one hand to the increased requirements of the materials to be processed and at the same time to remain as flexible as possible.
At the same time, this results in the opportunity for all companies involved in the machines to break out of their comfort zones and perhaps further develop machine parts that have been established for years.
One of the biggest challenges here is probably to convert machines that are already running so that they can also run for paper packaging, for example.
The winners of this Sustainability Awards category will be announced at a dinner taking place at the Sustainable Packaging Summit in Lisbon on 13th-14th September 2022. To attend the ceremony, register here.