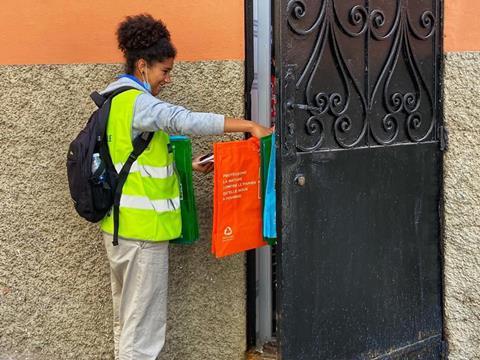 In a bid to create a circular economy for its packaging, the Equatorial Coca-Cola Bottling Company is working with communities in Guinea and Morocco to improve collection and recycling systems. To learn more about this project, we spoke with the company.
You're a finalist in the Sustainability Awards 2022. Congratulations! To start off, could you summarize your entry in fewer than 50 words?
At ECCBC, we have a long history of partnering with our communities to create long-term value for our future together. As part of the World Without Waste program, we aim to collect and recycle one bottle or can for every one we sell and use at least 50% of recycled material in our packaging by 2030.
Why do you think the judges were impressed with your entry? Tell us about what is innovative about your project and/or about its impact on packaging sustainability.
Across Africa, public waste collection systems are generally weak and often non-existent. That is why we seek to support programs that aim to improve waste collection systems and recycling networks in our territories and encourage their use. Both of our initiatives make a real difference to our commitment by creating collection networks able to sort and recycle packaging, whilst empowering the waste picker community and creating green jobs, as well as conducting awareness-raising campaigns.
The first one, the Recycling Conakry project (Guinea), has worked on the widespread introduction of waste pickers in order to mitigate the growing challenge of waste in the region by collecting plastic beverage containers and aluminium through a door-to-door collection process. To achieve this, the initiative involves a large community of 600 waste pickers.
The second one in Essaouira (Morocco) has created a network of collection points (consumers, cafes, restaurants, retailers, schools, etc.) for bottles after consumption that can be managed through an app. It is a pilot model that can be scaled to other cities.
Both initiatives arise from ECCBC's advocacy to concentrate our efforts on our plastic value chain to allow us to accelerate rPET regulations in all markets where we operate, both now and in the future. As mentioned, our actions stem from the Coca-Cola Company's 2018 announcement of the World Without Waste program. On the one hand, we are keen to collect one bottle or can for every one we sell by 2030 and, on the other hand, to use at least 50% of recycled material in our packaging by 2030.
How has your innovation/initiative been received thus far?
Both initiatives have brought us closer to our communities. We have had the opportunity to stand by them in the waste collection process, and we have also taken part in an awareness-raising and training campaign on recycling led by students and teachers. We have improved the social conditions of independent collectors and we have created new green jobs in the circular economy.
You're shortlisted for the Best Practice category. What do you see as the key demands, challenges and opportunities in relation to sustainability best practice in packaging?
Making a circular economy in Africa possible is challenging, as many stakeholders must work together to successfully complete the process. That is why we have taken the lead and have begun to test collection models that can be expanded inside and outside our territories.
At Equatorial, we always aim to go further, and seek to have a net positive effect on the communities we serve by investing in their capabilities and their infrastructures, and by launching programs that protect the environment and natural resources.
We truly think that good sustainability practices in packaging can make a huge difference. By collecting waste and recycling bottles with initiatives like ours, we can raise awareness, create green jobs and bring communities together to improve the environment.