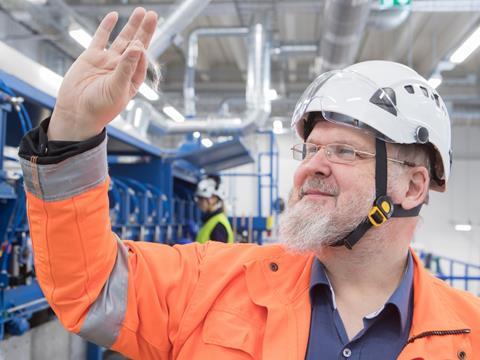 Bioeconomy 2.0 refers to the research and development of the next generation of bio-based solutions aimed towards renewable, reusable, recyclable and sustainable production. We asked Ali Harlin, research professor at Finland's VTT research centre about the potential benefits of bio-based materials for the packaging industry, the impact of current solutions and some of the main challenges in this field.
To start with, what drew you to the bioeconomy sector, and why is increasing solutions in the area important to you?
I have studied chemical engineering and polymer science, but also cellulose technology. After a decade in the petrochemical industry, I applied for a professorship in textile technology, and there started to shift towards novel solutions of cellulose, first textiles and soon after that packaging.
Due to climate change, resource scarcity and the difficult political and security situation in Europe, it is more important than ever to develop solutions that free us of conventional oil-based and unsustainable raw materials.
Bio-based solutions that can open paths to move from oil-based raw materials towards renewable, reusable, recyclable and sustainable production are instrumental in this endeavour. However, it requires research and investments, and close collaboration between the science community and the business world.
What are the potential benefits of moving towards more bio-based materials and products in the packaging industry?
There are three main benefits. First, it is a way to decouple from fossil resources as raw materials of polymer materials. Secondly, it is possible to provide materials which are not part of the microplastic problem. Finally, it offers recyclability in existing recycling systems of paper and board.
What has the impact of current solutions been like in Finland and further afield?
Last year was the first time board exports became more important than paper. This has been a major reorientation of the forest industry. Currently, companies are achieving the best results of all time.
This development makes it possible to take next steps towards production of value-added materials. In other words, the forest industry continues to grow without marked increase in raw material consumption.
How could further use of bioeconomy solutions have an impact on the packaging industry? What potential do you see for current and new applications?
The main sector of development is food packaging. It is growing the fastest and causing a large sustainability challenge: material efficiency in the food delivery chain is already causing a serious trash problem and it will get worse if we continue with only plastic.
New products are also coming to flexible packaging and there is more than a third of contemporary plastic applications which are replaceable with biomaterials.
What about using wood-based materials as alternatives for plastics – what are the main limitations and breakthroughs or innovations in that area?
We have traditionally had challenges in the moisture barrier with all biopolymers, but not with oxygen and grease barriers. Other limitations have been competitive clear film offerings.
Novel innovations based on deep understanding of cellulose structure and its inherent properties makes it possible to reconstruct old innovations and make them better than ever. One of these is the reinvention of cellophane with sustainable chemistry and advanced polymer physics to achieve better performance than ever.
What are some of the challenges – for example, how does cutting down trees for packaging materials compare with the carbon footprint of other packaging materials?
Forestry has to be maintained. Only a growing forest is able to capture carbon, aged forests are carbon stores which will burn due to natural causes some day.
Certified forests do capture carbon in a sustainable way and biodiversity is also taken increasingly into account. Reduction of paper production enables wood reserve to be applied in packaging applications and other new potential biomaterial applications as well.
Atte Virtanen (vice president of biomaterial processing and products at VTT) said that producing high-value, bio-based products for other continents could double the domestic product impact of bioeconomy in Europe by 2035. What would this look like in practice?
This means totally new products beyond plastic replacing packaging materials, starting from textiles replacing cotton and especially polyester, materials for water purification, personal and healthcare as well as materials for energy storage and composites for vehicles.
What goals in bioeconomy research would you like to see VTT and other research institutes achieve in the future?
We have to look forward to not only replacing existing materials, but also developing materials that exceed today's performance standards. It is not just traditional material development anymore but being a part of system level development of a new sustainable and safe society where resilience is also present.