The latest of our Pre-Commercialized Innovation Sustainability Awards finalists is UPM Biochemicals, with their new generation of sustainably sourced renewable materials that will, it says, 'enable brands to redefine their net zero targets and switch out of fossil-based feedstocks'.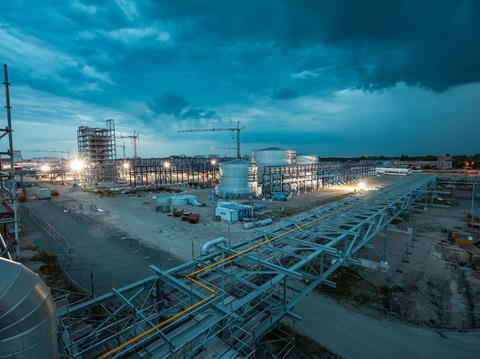 You're a finalist in the Sustainability Awards 2022. Congratulations! To start off, could you summarize your entry UPM Bio, in less than 50 words?
UPM is bringing a new generation of sustainable materials to the market with an advanced concept for the production of renewable glycols (Bio-MEG). Materials that will enable packaged goods manufacturers to reduce their scope three emissions, redefine their net zero targets and switch out of fossil-based feedstocks.
Why do you think the judges were impressed with your entry? Tell us about what is innovative about your project and/or about its impact on packaging sustainability.
Because the UPM Biochemicals products are a decisive stepping stone for the timely transformation of the packaged goods industry – from its high dependency on fossil-based materials to renewables.
In a world beyond fossils, there will be only three sources of carbon: CO2 capture, recycled materials and bio-based renewables. Yet global plastic production is expected to triple from 400 to 1200 million tonnes by 2050. Whereas recycled plastics are believed to make up to 750 million tonnes, bio-based chemicals have a vital role to play.
Our next-generation Bio-MEG technology was co-developed with The Coca-Cola Company and Changchun Meihe Science and Technology. The Bio-MEGs perform exactly like their oil-based counterparts which means process redesign is not needed and they integrate seamlessly into existing manufacturing and recycling systems.
The collaboration is a great example of what is possible when you are creative and think out of the box. Our innovation has been enabled by bridging different industries: forest and pulp; chemical and plastic; catalyst and process, and beverages.
When and how do you intend to launch/commercialize this innovation?
We are investing 750 million euros in a vast biorefinery at Leuna, in the German federal state of Saxony-Anhalt to produce essential bio-chemicals for the packaging industry from sustainably sourced forest biomass.
All the wood will be 100% certified (FSC© or PEFC™) and sourced regionally. Most comes from thinnings and industrial beechwood, which is currently incinerated, along with side streams from sawmills. We are providing viable economic demand that will safeguard the future of forests for carbon capture and biodiversity in a sustainable carbon cycle. When combined with reducing our dependency on fossil feedstocks, this is a "triple bottom line".
Production at Leuna will begin in Q4 2023, We will accelerate in 2024, with production of all products growing to 220 million tonnes per year. Additional biorefineries are planned to meet anticipated demand.
We are actively collaborating through the value chain to commercialize the products. We are teaming up with downstream partners in all major sectors, not only packaging. Bio-MEG will also be applied extensively in textiles, apparel and coolants for the automotive industry (internal combustion engine and battery powered).
You're shortlisted for the 'Renewables' category. What do you see as the key demands, challenges and opportunities in relation to renewables in packaging?
The Nova Institute is projecting the massive increase in demand for plastics and other resources by 2050 because the human population is growing and wealth is increasing. Industries need to meet that demand in a more responsible way.
We need to stop consuming new fossil feedstocks, but because they are the backbone of our chemical industry, we have a massive challenge ahead of us.
Circularity is, of course, vital. We have to rebuild the whole economy in a way that allows us to keep valuable materials in a circular system and remanufacture with renewable carbon to avoid liberation of additional fossil carbon from crude oil and natural gas.
It's the first time that such a concept will be implemented globally. It really is a genuine lighthouse project, which we hope will be enable the whole industry to adopt renewable carbon for packaging.