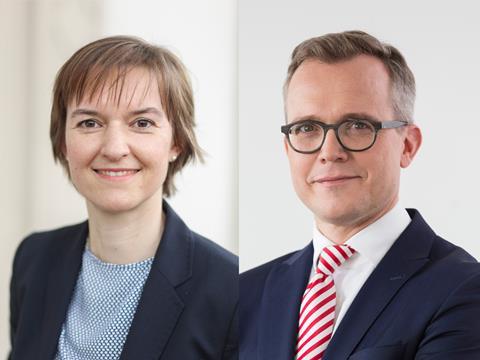 Could the proposed wide-ranging revisions to the EU's Packaging and Packaging Waste Directive cause more harm than good in their current iteration? Isabell Schmidt and Martin Engelmann of the IK German Plastic Packaging Association, which represents around 300 mainly SMEs in the areas of plastic packaging and plastic film, give their perspective on how the revisions could be improved – and the parts they think might benefit the industry.
The European Commission's proposal for an EU Packaging Regulation, published on 30 November 2022, offers an opportunity for the sustainable transformation of the packaging industry. Plastic packaging manufacturers in Germany have invested in the recyclability of their products and are ready with innovative solutions that combine high material efficiency with high-grade recyclabi lity and the use of recycled materials. In order not to jeopardise sustainable transformation, the regulation should be adopted before the European Parliament elections in 2024.
However, the draft also contains considerable economic and ecological risks for misguided decisions, which should be corrected in the legislative process. This concerns above all mandatory recycled content quotas for contact-sensitive packaging (e.g. for food and dangerous goods) and the discrimination of packaging made of plastic. Also, all delegated acts that concretise the sustainability and labelling requirements for packaging should be timed and industry should be given the opportunity to have its say.
In detail, we welcome the following points in the EU Commission's proposal:
A regulation that protects the internal market and facilitates transformation
Replacing the previous directive with a regulation - directly effective for companies and member states - facilitates the enforcement of harmonised packaging rules in the EU internal market and protects the free exchange of mostly packaged goods from the growing patchwork of national packaging bans, labelling and design requirements. Harmonised packaging rules are also necessary because only they enable the necessary economies of scale for the economic transformation towards an EU-wide circular economy.
Reduction of packaging consumption
We welcome the goal of gradually reducing the per capita consumption of packaging waste by 15% by 2040 compared to 2018. The requirement that the weight and volume of packaging must be kept as low as possible while taking functionality into account and that the permissible empty spaces in outer, transport and e-commerce packaging are limited should contribute to this, in accordance with the motto "pack as much as necessary, as little as possible".
Due to their low weight and high functionality, plastic packaging has great potential for material-savings and waste reduction. Through technical innovation, plastic packaging on the German market has become on average a quarter lighter since the 1990s, saving a total of over 1 million tonnes of packaging waste per year. Due to their lightness and stability, they are also well-suited as reusable packaging.
Design-for-recycling of packaging creates the prerequisite for high-quality recycling
Design-for-recycling is a basic prerequisite for economic, energy-efficient and high-quality packaging recycling and thus for increasing the use of recycled materials in packaging and other plastic products. Therefore, it is right to make minimum requirements for recyclability a market prerequisite and to additionally financially promote the highest possible degree of recyclability (Article 6).
In order to minimise the quantity and quality losses in recycling and to achieve the most cost- and energy-efficient recycling possible, we propose to tighten the requirements for recyclability by raising the minimum recoverable content of packaging from 70 to 80 percent by mass and clarifying that primary raw materials of the same material type are to be substituted.
Better separate collection and deposit systems are needed for high recycling rates
The obligation of the member states to ensure the nationwide separate collection of all packaging waste, including in public spaces, forms an important prerequisite for achieving the ambitious recycling targets as well as for the recyclability requirements of packaging and for the use of recyclates.
The implementation of this obligation by the member states must therefore be pursued with the highest priority. The introduction of a mandatory deposit for single-use beverage packaging is also the right thing to do. The mandatory deposit introduced in Germany in 2003 has proven its worth: it effectively reduces littering and enables a highly efficient material cycle with recovery rates of over 97% of the PET used in beverage bottles.
Clear labelling of the intended waste path
In this context, we also welcome the obligation of corresponding labelling of packaging and the waste containers intended for it in order to significantly reduce misdirection by consumers.
The following proposals of the Commission, on the other hand, should be improved:
Mandatory recycled content quotas for contact-sensitive plastic packaging (Article 7)
Mandatory recycled content quotas for plastic packaging are intended to create a demand guarantee for recycled plastics independent of the virgin material price and thus provide investment security for recyclers. This is welcomed, however the associated risks for the availability of recycled plastics and the security of supply chains must be taken more into account in order to create planning security for all economic actors and to avoid ecological missteps.
In order to avoid the risk that the availability of mechanically produced recyclates on the market is affected by more energy-intensive chemical recycling processes, it should be ensured that chemical processes recycle additional waste fractions that cannot be recycled mechanically to a high quality.
Therefore, we suggest exemptions for contact-sensitive packaging and the re-examination of the preconditions 5 years after the regulation comes into force. For all other plastic packaging, we call for an effective safety net that protects against marketing bans due to lack of availability of suitable plastic recyclates and thus secures important supply chains, for example for food.
We also consider the flexibilization of the use of recyclates through mass balances and credit methods to be a suitable instrument for balancing out the very different prerequisites of various packaging formats for the use of recyclates without reducing the intended demand impulse for recyclates on the market in total. Exemptions from the obligation to use recyclates should not be provided for compostable plastics, but for bio-based plastics which should be counted towards the quota.
Discrimination against plastics leads to environmental misalignments (Articles 22 and 26)
The proposed regulation contains measures that discriminate against plastic packaging compared to packaging made of other materials without justification. For example, reuse quotas are only envisaged for certain types of packaging if they are plastic packaging. If this packaging is made of other materials, however, no reuse quotas are to apply.
In addition, according to the proposal, only certain single-use plastic secondary packaging is to be banned at retail, but not packaging made of other materials, without any justification being given. Instead of the intended reduction of single-use packaging, these loopholes merely cause evasive behaviour towards non-regulated single-use packaging made of other materials. In order to avoid such shifts, reuse requirements and bans on single-use packaging should generally be imposed for certain products or segments, regardless of the material and format of the packaging.
Eco modulation of licence fees for packaging solely on the basis of its recyclability
The proposal remains unclear on which basis licence fees for plastic packaging are to be calculated within the framework of Extended Producer Responsibility systems. In the course of the last amendments to the proposal, the regulation was added that for plastic packaging (also?) the recycled content should be decisive. We recommend, in accordance with the impact assessment, that only the recyclability of packaging be used for the graduation of the licence fees.
Tie reuse requirements to environmental benefits (Article 26)
Efficient reuse systems with short transport distances and high reuse cycles can have environmental advantages over the recycling of single-use packaging and offer sustainable opportunities for plastic packaging in many areas. However, the potential environmental advantage can quickly be reversed if, for example, the return rates and reuse cycles of reusable packaging are too low or the emptied reusable packaging has to be transported a long way and cleaned at great expense.
References to waste avoidance alone are therefore insufficient to justify reusable requirements. The ecological advantages and economic feasibility should be examined in their entirety and reusable systems should be specifically promoted in those segments that are expected to be highly advantageous.