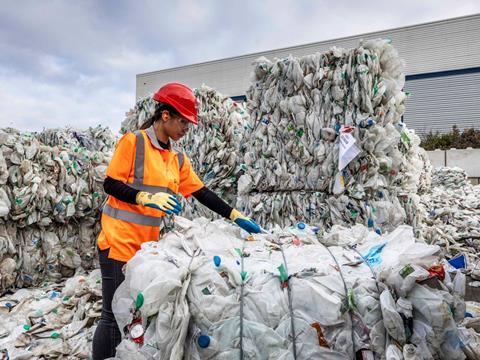 Veolia has launched its new PlastiLoop offer – said to provide customers across industrial sectors with circular resins and the means to utilise them, from waste collection to the production of new polymers.
The company claims that it will provide such plastics as PET, PP, HDPE, PS, ABS, LDPE, and PC, and that its offer covers the collection, sorting, washing, compounding, and repurposing of plastic waste. It is hoped that their efforts will encourage circularity and allow brands to cut down on pollutive packaging without compromising on quality.
"The new PlastiLoop offer brings together all our technical and commercial expertise in recycled plastics to provide our customers with the best possible support with customized solutions," says Estelle Brachlianoff, chief executive officer of Veolia. "It offers the strength of the Group, through its experts and its various recycling plants, to ensure the best access to recycled plastic deposits.
"Choosing recycled plastic not only saves resources but also achieves a considerable reduction in CO2 emissions, up to 75% less than virgin plastic. As a global champion of ecological transformation, through this offer, Veolia is creating more outlets for recycled material and promoting the structuring of this sector worldwide."
Veolia anticipates that its connections with experts will help to facilitate this goal – as well as its thirty-seven plastic recycling plants around the world, where it claims to have produced approximately 476,000 metric tons of circular polymers last year and increased its global recycling capacity five times over since 2016. It hopes to reach 610,000 metric tons of recycled resins delivered by 2023.
Smithers' recent report identified post-consumer recycled resins as a step forward for sustainability in the packaging industry, highlighting collection schemes for hard-to-recycle materials and the commercialisation of advanced recycling as areas to focus on.
Dow also announced that its REVOLOOP PE resins had been certified by AENOR to contain at least 30% post-consumer recycled content, while NEXTLOOPP previously completed a full-scale packaging production trial of its PPristine food-grade resins for Mannok Pack's dairy tubs and lids.