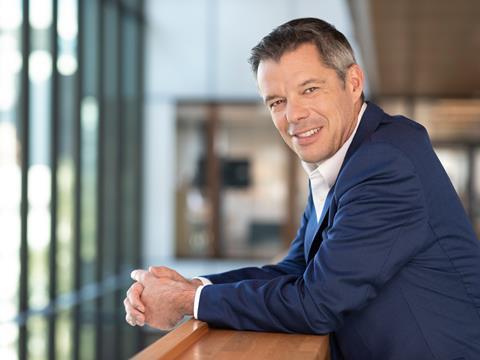 Flexible packaging protects products that are vital to society, which in turn presents challenges that we need to overcome. In this context, Marco Hilty, who joined Huhtamaki as President of Flexible Packaging in September 2021, reflects on the industry's need to set more ambitious goals in driving circularity of flexible packaging—and shares why change might be possible faster than many people think.
An integral part of today's living standards
Today, flexible packaging is used by the food and beverage, personal and home care as well as pharmaceutical industries to protect the countless life-enhancing and life-saving products that we use every day. And demand is increasing rapidly.
The world's population is projected to reach 8.5 billion by 2030 and surpass 9.7 billion by 2050, necessitating a significant increase in food production. Global supply chains will need to adapt to this growth, and flexible packaging will play a critical role in helping to deliver safe and affordable products to consumers, improving accessibility no matter where they are.
Flexible packaging offers functionality that is hard to match, protecting and preserving food efficiently during transportation and storage, extending its shelf life, minimizing food waste, and boosting affordability and accessibility. With a packaging-to-product ratio five to ten times lower than alternatives, flexible packaging is lightweight yet durable.
In Europe, 40% of all food is shipped and sold in flexible packaging, all while using only 10% of all consumer packaging materials. According to one estimate, if only flexible packaging was used for food on-the-shelf, we could save more than 20 million tons of packaging materials in the EU alone. For a large number of applications, flexible packaging is the most resource and carbon-efficient option that does not compromise on protecting the package contents.
The other side of the coin
However, while flexible packaging has huge benefits, once used, it comes with challenges. While it would be technically feasible to recycle a greater share of today's flexible packaging after use, we simply aren't achieving the rates that we need to see. Globally, we recycle 70% of paper, 50–80% of glass, and 30–90% of metal, but only 14% of plastic packaging. Europe may be an inspiring outlier with a plastic packaging recycling rate of more than 40%, but this is still nowhere near where we need to be to deliver on circularity.
So, how do we increase the recycling rate of flexible plastic packaging? First, we must recognize that we still often find flexible packaging structures in the market that compromise between functionality and recyclability. Many packaging structures, such as multilayer laminates with aluminum foil and plastic, pose a challenge for today's predominant recycling technology - mechanical recycling - leading to lower-quality recycled material.
Second, we must realize that mechanical recycling performs at its best when sorting systems are efficient and widespread. Third, even though a good proportion of flexible packaging is already technically recyclable, consumers often find disposal instructions unclear and lack confidence in recycling systems.
Lastly, many parts of the world still lack proper recycling infrastructure. Emerging technologies, such as chemical recycling, may solve some of these challenges in the future. However, as they do not yet exist at scale, they are not a short-term solution.
To make a step change in recycling rates starting today, we must stop feeding plastic recycling systems with anything that is not compatible with their technical capabilities. We must further clarify the instructions on how to properly dispose of packaging and see increased investment into the expansion of recycling infrastructure. This will help us progress in our journey to collectively stop plastic leakage into the environment and increase resource efficiency.
Designing for true circularity
We fully support the commitment of many of our customers to achieve 100% recyclable packaging by 2025. The ongoing discussion about the right design criteria for sustainability and recyclability in flexible packaging is of paramount importance, and we want to see the ambition level increase across the industry. This is the only way to ensure that we align with efforts to expand the current recycling infrastructure and boost consumers' trust in the system.
In Huhtamaki's case, we have set very clear targets for ourselves. Following our material-positive philosophy, the choice of packaging material must follow the principle of always applying the best fit-for-purpose for each application. To expand our range of material options for demanding applications, we have developed a barrier paper solution that offers barrier performance comparable to aluminum without compromising on recyclability.
Where flexible plastic packaging is the best fit-for-purpose solution, we will not consider labeling anything less than 90% mono-material as "recyclable." In fact, we will not be satisfied until we offer flexible packaging that reduces the volume of plastic required and is at least 95% mono-material overall, maximizing material efficiency and recyclability, and do this at scale.
Still, we want to deliver the same package and barrier performance, and to support affordable access to food and other necessary products. We will not compromise on any of today's customer expectations.
Industry experts know that this is an ambitious target, but it is one we believe in. We believe that neither we nor the industry should settle for less. Our experienced innovation team is working hard with our technology partners to make this happen.
What really makes me excited about being part of the Huhtamaki innovation journey is that we believe in our ability to drive real change, not over the next decade, but in the next few years, in line with our customers' circularity commitments.
Looking ahead, by 2030, we want to see the flexible packaging value chain fully transformed, achieving true circularity, carbon efficiency and bringing a net positive impact to the global food chain. To get there, we must run faster than we have done before. Stay tuned – over the next few months, we will share much more about our solutions to redesign the future.