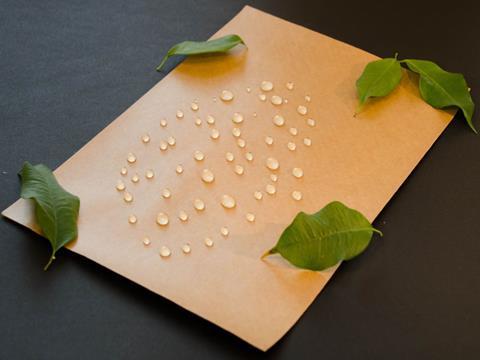 Smurfit Kappa has launched AquaStop water-resistant paper with a coating added during the manufacturing process that reportedly does not interfere with recyclability, as part of its new TechniPaper portfolio.
According to Smurfit Kappa, AquaStop's water-resistant properties are enabled by a special coating added to the paper during the manufacturing process. The company claims that this coating does not compromise the recyclability of the product, apparently allowing it to be recycled in the same way as standard paper-based packaging.
Smurfit Kappa adds that the paper is designed to withstand exposure to water without being damaged, making it suitable for e-commerce packaging and for packaging products such as flowers, detergent, fruit, and vegetables where temporary protection against water is needed.
In addition, boxes made with AquaStop reportedly remain intact while protecting the contents even in humid conditions. Smurfit Kappa says this makes them suitable for the transport and storage of refrigerated products where there is exposure to condensation.
Lars Henriksson, vice president of product development at the Smurfit Kappa Paper Division, comments: "We are very excited about AquaStop and believe it is a truly revolutionary paper.
"We're expecting AquaStop to interest many of our customers, particularly those who transport goods in more demanding environments, because of the peace of mind it will give them that their products will remain in perfect condition even if exposed to water.
"Our product development team, along with our colleagues in Spain, have created something very special that has superior functionality, whilst at the same time remaining 100% recyclable."
Saverio Mayer, CEO of Smurfit Kappa Europe, adds: "We are continuously developing innovative and sustainable packaging solutions that are helping to meet our ever-growing customer needs, no matter how challenging or unusual the ask is.
"AquaStop is a must-have product for customers with complex supply chain requirements and is another example of how, at Smurfit Kappa, we have the brightest minds and most creative spirits working towards a common goal."
AquaStop is the latest innovation in Smurfit Kappa's Better Planet Packaging portfolio, which includes the recently launched paper-based food box for the Lithuanian restaurant Fresh Post that can absorb mineral oils.