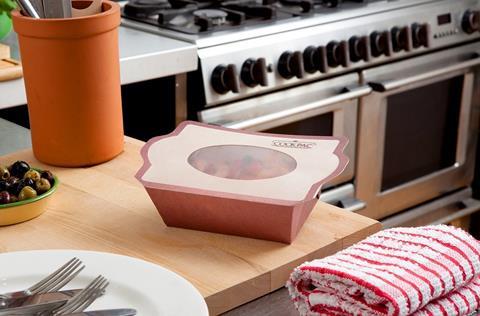 Responding to retailer calls for easy-to-use, food packaging solutions for chilled and frozen ready-made meals and take-away, Colpac, one of the UK's leading designers and manufacturers of food packaging solutions, will launch the unique, ovenable, Cookpac® range at the forthcoming Packaging Innovations Show.
Significantly, the Cookpac® range is dual-ovenable and, as an all-in-one solution, responds to growing calls for suppliers to create solutions which reduces unnecessary packaging, minimising the use of plastic, helping retailers and food service operators meet sustainable objectives.
UK consumers spend £3 billion every year on dishes which can be warmed through and served in minutes, and they are increasingly demanding ready meal products which contain fresh, quality ingredients. Consequently, as a number of new premium brands have entered the market, demands on packaging have increased. The packaging solution of ready meals today needs to be sustainable, dual-ovenable, with the ability to customise branding to depict the freshness of the meal within.
Answering these complex packaging requirements, Colpac's new Cookpac® range, is a unique, paperboard solution which can be taken from the fridge or freezer and put straight into the oven or microwave, and features several integral design elements to overcome issues relating to traditional ready meal packaging.
For ease of handling during oven or microwave cooking, Cookpac® has integrated heat resistant handles to ensure it is easy to take out of the oven, it features a self-ventilating film which releases slightly during the heating process to enable consumers to open the pack easily.
In addition, the shape of Cookpac® will not alter during heating, which frequently occurs with plastic trays, a concern which is particularly important to the elderly market.
Ideal for retailers, independents and any food service operator, Cookpac® is available in two separate designs, Same Day and Heat-Seal. While the former is more suitable for fresh food to be consumed on the same day, the latter offers an extended shelf life. Through the heat seal technology of Colpac's food machinery range, ColSeal™, the freshness of meals packed within the Heat Seal Cookpac® range can be preserved and taken straight from the freezer and cooked frozen when desired.
For brands who are battling for shelf presence, the Cookpac® range is a premium packaging solution as it can be customised in size, design and construction to enhance the offering, and differentiating the brand from competitors. As an all-in-one pack, with a single SKU, Cookpac® allows for efficient storage, handling and reduces supply chain logistic challenges.
"The exciting developments in chilled, frozen and ready to eat foods alongside increasingly varied consumer needs for packaging to reduce food waste, minimise environmental impact whilst maximising communication and safety" Comments Andrew Grimbaldeston, Colpac's Commercial Director. "The creation of the Cookpac® range is the result of customer consultations and rigorous testing of paperboard options by our team of design specialists and the Packaging Innovations Show is the ideal platform to launch this innovative, premium new food packaging solution."
To view the Cookpac® range and other food packaging solutions from Colpac, visit stand D10 at the Packaging Innovations Show, 28th Feb – 1st March, at the NEC Birmingham.
More info: