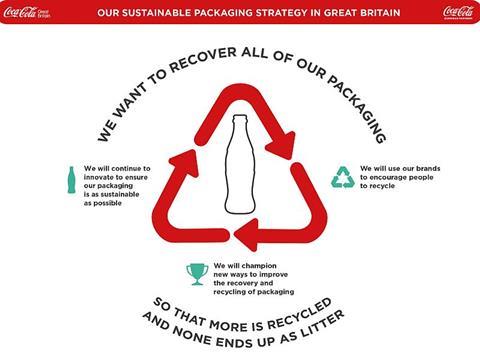 One year ago, Coca-Cola European Partners (CCEP) and Coca-Cola GB (CCGB) presented their Sustainable Packaging Strategy. Elisabeth Skoda finds out from CCEP's Head of Sustainability, Nick Brown, if the company is on track to achieve its sustainability goals.
One year on, CCEP is pleased with progress overall, but recognises that there is more to do. We have conducted a lot of activity across different parts of our business over the past year to specifically address the commitments we made, all contributing to our goal of recovering all our packaging so that more can be recycled and none ends up as litter. This is a process and one we are committed to for the long-term.
The strategy highlights where we are going to focus our efforts, but this is just the beginning and we'll continue to look at ways we can go further and work with others to help us get all our packaging back. It won't be easy, and we cannot do it alone but we're committed to doing what we can and working with others to achieve this goal. We are focussing our efforts on the areas in which we know we can make the biggest impact and have already made some significant moves to help us reach the ambitions set out in last year's strategy.
A European effort
Across the whole of our Western European business we share the same bold ambitions to recover all our packaging. We have a range of local initiaitves which are specific to the waste and recycling infrastructures in different countries and we collaborate across countries where there are opportunities to tackle common problems or learn from each other.
Operation Clean Sweep
We have become increasingly aware over the last couple of years of the issue of micro plastics and nurdles in the environment. We found the best framework for us was the Operation Clean Sweep programme led by the British Plastics Federation (BPF) in Great Britain. The guidelines help business to understand and minimise the risk of micro plastic losses, in their sites and also with their suppliers. We would encourage all businesses to have a look at the programme to help them minimise the risk of micro plastic losses in their supply chains.
Finding a strategy for well-designed DRS System
Countries with well-designed Deposit Return Schemes for rigid beverage packaging can often achieve higher collection rates; better material quality and a lower level of beverage packaging littering. With recycling rates across England and Scotland stalling, the beverage industry has an opportunity to step change the levels of recovery of its packaging and governments in Holyrood and Westminster have both set a clear intention of implementing such a scheme.
We know that this represents a fundamentally different collection approach, with the public returning used packaging to where it was purchased, rather than using the existing household collection schemes. It will have a significant impact on householders, retailers and Local Authorities, who currently provide the household waste and recycling collection services.
There are some key principles common to many well-designed DRS around the world and which should be the basis for any scheme in Great Britain.
The scheme should be easy for the public to use and they should be fully refunded when they return their packaging; there should be a single scheme run by a Not for Profit organisation and the scheme should be professionally set-up and run to achieve the best outcomes at the lowest total cost and minimise fraud. These principles are important as they will minimise the costs to the industry and therefore to the public.
With consultations from both governments expected before the end of the year, it's important for all interested parties to put forward their vision of the optimal scheme – a well-designed scheme will have a wide-reaching impact, after all.
We look forward to working closely with the Government and other like-minded companies to develop a system that significantly improves recycling rates in a way that works for consumers, local authorities and businesses.
Boost for bioplastics
We first used recycled plastic in our bottles in 1991 and each bottle now contains on average 25% recycled plastic. We have committed to double this to 50% recycled content by 2020. In the case of the glacéau smartwater PlantBottle, it is fully-recyclable PET made partly from plant-based materials. The recycled plastic used in our bottles is sourced from a recycling plant that we helped to build in Lincolnshire.
Our bottles are 100% recyclable which means they are not 'single use' but should instead be recovered so that they can be turned back into new bottles. Plastic bottles are widely and easily recycled in GB with nearly all councils collecting them for recycling directly from households.
Working across the entire product life cycle
For the past 20 years we've been working with partners to do the things we believe will help the most, including supporting recycling programmes and infrastructure to better recover our bottles and cans for reuse, running consumer awareness and education campaigns around recycling that harnesses the power of our brands, for example, our recent Love Story TV campaign and our new 'Recycle Me' messaging on bottle caps of Coca-Cola; funding partnerships that protect and clean up our seas and waterways, For example, our projects with WWF and the Rivers Trust and sponsoring clean-ups, such as the International Coastal Cleanup, the largest single-day volunteer event that helps clean the world's waterways.
We are leading the fight against litter by supporting Keep Britain Tidy, Keep Scotland Beautiful, Keep Wales Tidy and an industry designed city wide recycling on the go trial in Leeds. In fact, our first partnership with Keep Britain Tidy was back in 1965. Many of our CCEP colleagues take part in Keep Britain Tidy's annual Great British Spring Clean weekend.
Boosting sustainability through packaging
The company has made significant progress to improve the sustainability of its packaging. All our bottles and cans have been 100% recyclable for a number of years and we have reduced the amount of material going into our packaging too. Since 1991 we've pioneered the use of recycled PET in our bottles. All our bottles and cans are 100% recyclable and have been for many years. Since 2007 we have decreased the weight of our packaging by 27% and reduced the amount of packaging we use by 15%. In 2011 we invested to build the worlds' largest and most sophisticated bottle reprocessing plant in Lincolnshire, this allowed us to start using 25% recycled plastic in all our bottles. On average our bottles contain around 25% recycled plastic, our aluminium cans around 42% recycled aluminium and there's 56% recycled glass in our glass bottles.