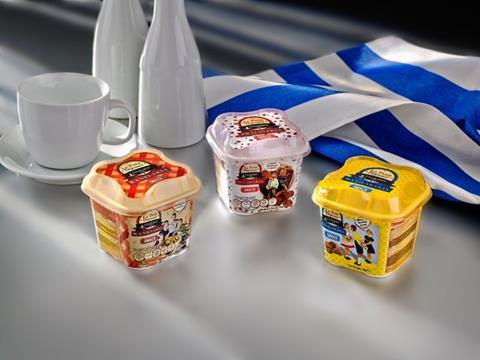 The EasySnacking™ pot from RPC Superfos is being used for a new cereal product that allows consumers to enjoy premium cereal straight from the pack.
Le Petit Déjeuner from Greek company Tsakiris Family is a whole-wheat cereal rich in dietary fibre that, thanks to the EasySnacking™ pot, can be enjoyed plain or with milk in a single serving size.
"The EasySnacking™ pot is cute, convincing and convenient at work, at school or while on the move," says Maria Tsakiris, Corporate Marketing Officer at Tsakiris Family. "It sets us apart from our competitors. The small handy size is new to the market, where cereals traditionally are sold in larger cardboard boxes."
The three varieties in the range – whole-wheat morsels with cinnamon, whole-wheat morsels dipped in hazelnut praline, and crunchy whole-wheat pillows with hazelnut filling – are contained in three versions of the EasySnacking™ pot from RPC Superfos. Vintage-themed, the pots are decorated using advanced In-Mould Labelling, which renders perfect graphic quality.
Injection moulded in polypropylene, the EasySnacking™ pot features attractive smooth lines and a pleasingly simple design, with all that end-users need, and nothing more. A convenient spoon is contained in the lid, under a self-adhesive peel-off label, allowing consumers of Le Petit Déjeuner to add a dairy product if they wish.
The concept of ease and convenience for cereal snacks has resonated not only in Europe but also in China, Taiwan, and South Korea, to which Le Petit Déjeuner in this new format is now exported.
"Simply showing the sample packaging and presenting our concept to our international business partners has proved to be a great door opener," says Maria.