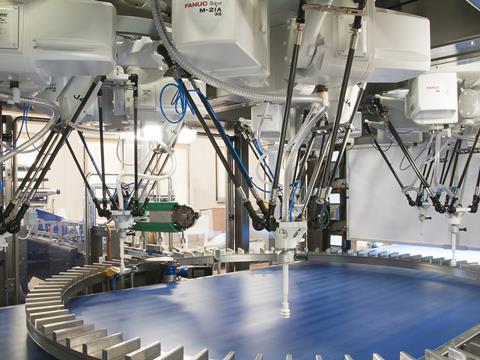 A solution for croissants
A wrapping solution, completely based on the vision system with high-resolution linear cameras, is made for delicate products with irregular shape, like croissants. The G-44 robotic unit,equipped with 2 Delta arms, takes the croissants transported on a conveyor at 120/150 ppm and places them directly on the wrapper's "chainless" infeed.
The vision system is based on last generation linear and colour cameras, controlled by Cognex. This unit is able to support up to 4 cameras in parallel, along with another series of vision sensors(for example, laser profiles, matrix cameras..) and it represents a standard for the global market.The modularity of these units allows them to be installed in a series with a little effort and with a very simple software. They are built with standardised frames and optimised measures.The robot unit is complete with a flow-wrapper model Zero4, a medium range wrapper but in any case, able to satisfy the most ambitious requirements. Being part of an automatic wrapping line, the wrapper is equipped with accessories such as the automatic reel splicer and the driven unwinding roller.