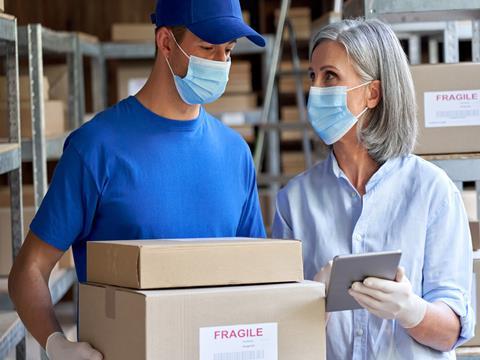 A recent report from research consultancy firm PreScouter looks at weaknesses in current supply chain models that were exposed by the COVID-19 pandemic and shows how emerging technologies can bolster the resilience and efficiency of supply chains. In this comment piece, PreScouter Technical Director, Dr Sofiane Boukhalfa discusses challenges and opportunities for the packaging supply chain to build resilience that will reverberate across industries.
Based on a survey of companies from different industries on the challenges faced during the COVID-19 crisis, a vast majority of organizations reported having struggled with significant challenges across all aspects of their operations:
More than 80% were negatively impacted by the crisis
68% had difficulties with products being held up in ports or across borders
More than 67% of companies lost sales due to stockouts
74% of companies had shortages of critical raw materials due to delayed shipments
The pandemic has led packaging companies to rethink packaging size, pay attention to consumer perception of packaging and waste, and design for more return-friendly packaging. It has also shown a path forward toward automating the activities in the packaging supply chain. With 72% of surveyed respondents having difficulties in end-to-end monitoring of the supply chain, the packaging industry plays a crucial role in monitoring as well as optimizing supply chain costs.
This article explains the biggest supply chain challenges faced by the packaging industry and actions needed to build a resilient supply chain with the lessons learned from the COVID-19 pandemic.
The packaging industry's biggest challenges
The packaging industry's ability to keep up with orders has been staggered by raw material shortages and logistical constraints.
"Everybody is short, the industry is out of capacity, it is sold out," commented Ron Delia, chief executive officer of packaging maker Amcor Plc, in an interview with Bloomberg.
Raw material shortages, in particular, exposed the weaknesses of current supply chain models over the past 16 months because of the pandemic.
"We are now seeing the ripple effect from manufacturing having short-term shutdowns causing shortages and price increases," said Jeff Watkin, director of marketing for Sev-Rend, Collinsville, Ill, in a commentary piece for The Packer.
How advanced packaging technologies can strengthen supply chains
Building a more resilient supply chain lies in investing in new technologies and the interconnectivity of digital tools, physical infrastructure, and their underlying data streams to move from descriptive to predictive supply chains.
Advanced technological tools will facilitate the enhancement and strengthening of supply chain efficiency. These tools include blockchains, digital twins, 3D printing, and autonomous mobile robots.
For instance, the implementation of blockchains will change the shapes of food packaging, as the box itself can now be used to access every bit of information about its product's journey. As an example, Walmart is exploring new blockchain solutions to maintain food integrity.
Advanced processes will also be important factors in enhancing the resilience of supply chains moving forward. Technologies like digital twins help through the simulation of the manufacturing process, providing a better understanding of pain points such as machine wear and tear and supply shortage with changing demand, in turn helping reduce the bullwhip effect in the up stream.
Immersive reality allows for increased speed, efficiency, and safety
Immersive reality is the experience resulting from technologies that merge the physical world with a digital production of reality.
Virtual reality (VR) uses computer-generated information via a head-mounted display and input devices to provide the user with a sense of full immersion in a simulated reality, whereas augmented reality (AR) projects computer-generated information onto the user's physical environment.
The use of AR and VR headsets will allow consumers to see what's inside packages without opening them. This technology is currently being implemented at major retailers such as Target, Walmart, and Home Depot.
Customized products can be easily made, which may help companies to tap an unexplored market. This can also lead to a reduction in marketing costs as well as packaging costs, as the product's specifications are readily available with the touch of a scan.
Hyperautomation can help address challenges and mitigate inefficiencies in the supply chain
Hyperautomation joins artificial intelligence (AI) tools together with robotic process automation (RPA) to create an end-to-end solution that enables the automation of complex business processes, taking digitalization automation to the next level.
Deep learning software uses human-like intelligence to appreciate nuances like deviation and variation. Hyperautomation can help in packaging optical character recognition, packaging assembly verification, and packaging classification.
Packaging applications involving flexibility and the judgment-based decision-making of human inspectors can be accurately predicted and be defect-free with the help of hyperautomation.
Amazon has adopted hyperautomation to aid in its massive logistics operations. This combination of different technologies enhances efficiency and transparency across the picking, packing, and shipping process.
Sun Automation is focused on the corrugated packaging industry, providing corrugated manufacturers access to insights into the performance of their machines and reportedly enabling minimized downtime, optimized maintenance schedules, and maximized profit.
Digital twins can identify execution risks early
A digital twin is a virtual model of a real object or system that leverages digital tools that allow it to be continuously fed by real-world data so that it can effectively and efficiently offer real-time insights about the object's or system's present and future performance and problems. Digital twins can be used to track and analyze supply chain players' key performance indicators, such as packaging performance, fleet management, and route efficiency.
Companies can use digital twins to predict the performance of packaging materials and test them for feasibility. For example, ABB Robotics has introduced digital twin technology into its PickMaster robotic software, which is now called PickMaster Twin. This software uses digital twin technology to shorten the commissioning times of vision-guided, random flow picking and packing applications.
Next steps for connected networks:
In addition to the technologies mentioned above, a number of other tools will be key to building true supply chain resilience. These include truck collaboration software systems, robotic shuttle systems for automated storage and retrieval, and distributed inventory flow forecasting systems, to name a few.
At the center of all of these tools lies the connectivity factor. PreScouter laid out a simplified roadmap to achieving such connectivity as follows:
Advancing the interconnected digital supply networks
Automating operations
Balancing the global supply chain footprint
Reexamining the extended, multi-tier supplier network
Optimizing inventory
Re-architecting work for the future