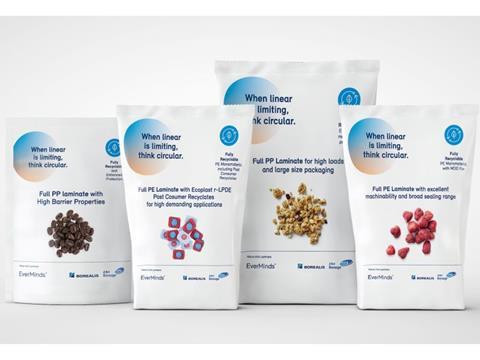 Borealis and Borouge have developed a series of new, monomaterial pouch solutions based on polyethylene (PE) and polypropylene (PP).
Designed specifically for recycling, and in collaboration with value-chain partners, these new pouch solutions are described as being suitable for the most demanding consumer packaging applications. In line with the EverMinds™ approach to Thinking Circular, these solutions further expand the range of more sustainable options available to the flexible packaging industry. Several of the pouches will be showcased at the K 2019 in October, including one exemplar containing 35% post-consumer recyclate (PCR).
New monomaterial solutions based on PE and PP deliver high performance
Borealis continues to collaborate with strategic value chain partners, including leading machinery producers for the flexible packaging industry, to expand its range of monomaterial solutions for flexible packaging. Following the successful launch of the Full PE Laminate in 2016, this newest collaboration has generated a series of new and fully recyclable monomaterial pouch solutions for both PE and PP-based materials. These new pouch solutions include:
• Two pouch concepts made of PP, including a Full PP Laminate with high barrier properties;
• A Full PE Laminate with excellent machinability and broad sealing range;
• A Full PE Laminate containing recycled material and fully recyclable into high quality recyclates in the closed-loop process.
With the exception of the Full PE Laminate made using Ecoplast r-LDPE, which contains both virgin and recyclate material, the new solutions are composed of virgin material based on the Borstar® technology: BorShape™, Anteo™, and Queo™. Several pouches are currently being tested in select markets around the world.
"We are especially pleased to be offering these new monomaterial pouch solutions. Taken together, they perfectly illustrate our EverMinds approach to promoting greater plastics circularity," explains Geert Van Ballaer, Borealis Head of Marketing Consumer Products. "They originate in value-chain collaboration, are focussed on the customer, and are powered by innovation. By 'Building Tomorrow Together' we can more rapidly generate an ever larger number of increasingly ambitious circular solutions, and get these to market faster than before."
Novel monomaterial pouch solutions are designed for recyclability
Flexible plastic packaging is a rapidly growing segment of the packaging industry. Whether stand-up pouches, sachets, films, bags, liners, or wraps – the benefits of flexible packaging to both producers and consumers are considerable. Flexible packaging safeguards the quality and integrity of package contents while offering unparalleled functionality and convenience. Compared to rigid packaging alternatives such as glass and metal, flexible plastic packaging demonstrates better performance when it comes to sustainability parameters such as lower overall carbon footprint.
However, while rigid materials are primarily monomaterial-based (composed of 100% glass, aluminium etc.), flexible materials have traditionally been multimaterial. The rejection of multimaterials during the mechanical recycling process reduces yields. Moreover, multimaterial recyclate has limited application due to its inferior quality.
K 2019 will take place from 16 to 23 October 2019 in Düsseldorf, Germany.You can visit Borealis and Borouge in Hall 6 at Stand A43, where the new monomaterial pouch solutions will be on display.