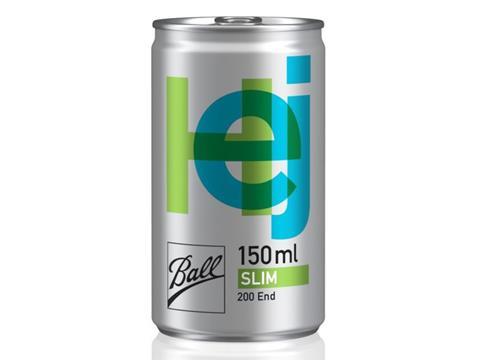 Ball Corporation, a leading can manufacturer, is adding a 15-centiliter slim can format to its already extensive range of beverage packaging options in Europe. This additional can will be the smallest sizing option in the range, addressing consumer trends toward greater portion and sugar control in beverages.
The 15-centiliter slim can, which will be produced at the Naro Fominsk plant in Russia and distributed globally, responds to several market trends, particularly driven by the increasingly health-conscious consumer. Irina Dolyanovskaya, Russian sales manager at Ball says: "At first we assumed that the 15-centiliter size would be most convenient for strong alcohol or vodka, particularly within the Russian market. However, we are actually seeing that this can format is also appealing to the newer canned beverage categories such as juices, waters and cold brew coffees."
With hectic lifestyles, a desire for on-the-go consumption, and a greater focus on health and nutrition, European customers and consumers are seeking smaller packaging formats that offer portion control, portability and ease of use. The infinite recyclability of metal packaging also means that the can's sustainability credentials are in line with many brands' environmental commitments.
Ana Neale, marketing and strategic planning director at Ball comments: "The new can size is a prime example of Ball extending its range in order to meet the demands of its customers. Ensuring that we understand and respond to consumer trends and market-specific regulations is a key part of this."
In addition to juice, water and coffee, the versatile 15-centiliter slim can is also ideally positioned for the adult mixers market, for distribution in aircrafts and vending machines, for beverage brands aimed at children, and for customers who look to create sample size cans for marketing activities and events.
More info: