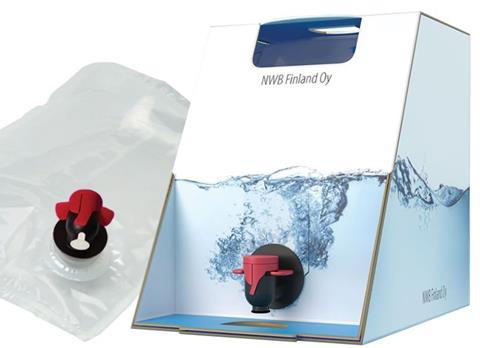 A Finnish start-up has launched an innovative packaging for liquids that pushes the boundaries of design, cuts costs and helps to save the environment.
The new concept, called NWB packaging, is recyclable, user friendly and logistically efficient. It is suitable for all liquids such as water, wine, fruit juice, milk, and olive oil.
Thanks to its unique design, NWB looks appealing and fits easily into the fridge and keeps the liquid cooler for longer. NWB packaging builds on the Bag-in-Box principle and consists of three parts: an outer cardboard box, a flexible bag and a dispenser. The box protects the product from direct sunlight and saves up to 90% in waste transportation vs plastic bottles as it is flattened after use.
The bag and the dispensing tap, supplied by Rapak, part of DS Smith Plastics, ensure minimal contact of liquid with air even after opening. Compared to any other packaging, the air-tight flexible bag allows for an additional 1-20 weeks of product shelf life depending on the product type and storage conditions.