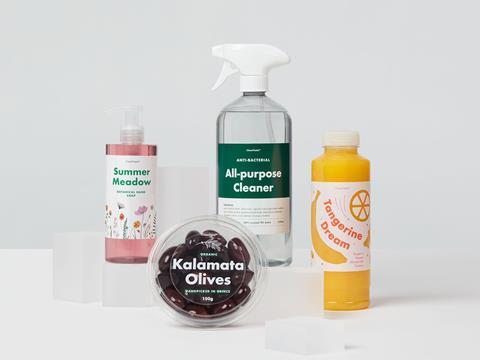 Today, Avery Dennison announced the latest iterations of its award-winning CleanFlake filmic label material, which are now suitable for PET packaging in food, home and personal care, and other segments in addition to beverages.
"More than ever, CleanFlake helps brands keep the promise of PET," says Avery Dennison product manager Mariya Nedelcheva.
"Companies that use PET packaging no longer have to choose between true recyclability and outstanding performance when it comes to their labels. We are closing the gap between CleanFlake materials and conventional, general-purpose label materials. For companies that care about recyclability, the question now is not why they would use CleanFlake, but why they wouldn't."
First introduced in 2013, CleanFlake technology aims to solve a critical problem in PET plastic recycling by helping to ensure that a label's adhesive stays with the label and not on the package, so that all label material fully detaches during the recycling process.
The resulting washed PET flakes can then be recycled into new PET packaging. Flakes that are otherwise contaminated by conventional label materials must be downcycled or sent to landfills or incinerators.
With a new proprietary adhesive, SR3011N, Avery Dennison says that its CleanFlake materials look and perform like any other self-adhesive label material.
An upgrade to the topcoat reportedly provides outstanding printability, and CleanFlake materials are designed with the aim of delivering fast, flawless application on high-speed labelling machines.
CleanFlake facestocks offer the same "no-label" look as comparable Avery Dennison materials. Meanwhile, products in the portfolio comply with Petcore guidelines for trays and are certified by Institut Cyclos-HTP. Endorsement from the European PET Bottle Platform (EPBP) is pending.
"We are proud to offer a solution that helps keep PET plastic containers out of the waste stream and helps to increase the global supply of rPET," concludes Nedelcheva.
"Our CleanFlake portfolio is one more way we're helping to build a circular economy in Europe and around the world."