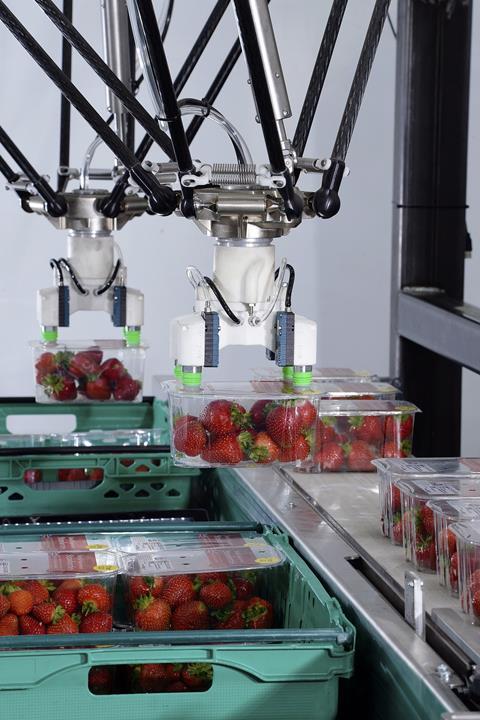 "Traditionally, to achieve high speeds like this in case loading, machines pick layers or rows of product," explained Mr Jahn. "However, this can lead to fruit punnets and flow wrapped fresh items like apples being dropped, which requires human intervention and interruption to the packing line, plus leads to significant waste which impacts profits."
For many products, single pack picking is the safest and fastest way to meet retailer specified case loading patterns and deliver good presentation, notes David.
Brillopak's P160 system incorporates two Omron three-arm Delta robots, both with quick release end-of-arm robot heads for different product types. These enable packhouses to extend their traditional seasonal work windows to year-round packing operations and flex quickly to multiple product types and sizes, resulting in a quicker return on investment.
For food factories and packhouses tight on space, the machine's compact footprint, 3.2 metres by 1.5 metres, makes it an estimated 15% smaller than any other dual robot layer-based automated handling system currently on the market.
The end of line packing system can be integrated with a Brillopak crate destacker and palletiser for increased efficiency.
"The UK has an enviable reputation for harvesting quality fresh produce and just over half the food we eat in the UK originates from here," notes David. "Today, fresh produce is a key driver of retail store traffic and therefore has an influence on the entire weekly shopping spend. Most are highly perishable products and should be packed as close to the point of consumption as possible. The popularity of soft fruits continues to climb, and by 2020 an additional 2,000 seasonal workers will be required to meet demand."
To a large extent, packing into cases remains a manual task, making the UK's over-dependence on seasonal EU labour a worry. Thankfully, high-speed technology like the P160 case loader, makes automation financially viable, even for seasonal and SME packhouses.
"Depending on the application, ROI for the P160 can be between one and three years. By delivering consistent presentation on all types of punnets, flow wrap and vertical form fill seal products, packhouses can seek out and exploit new business opportunities," concluded Mr Jahn.