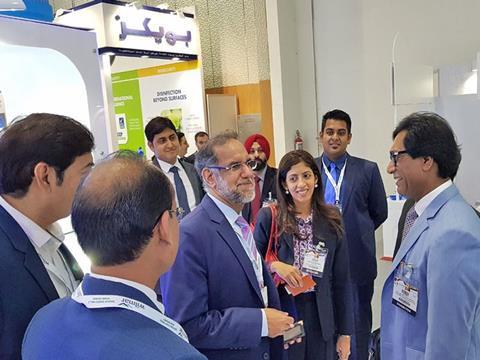 Making its debut at the recently concluded GulFood Manufacturing 2017 in Dubai, Asepto impressed global audiences by exhibiting its exclusive and exhaustive range of liquid packaging solutions in front of the global audiences.
Asepto has redefined the art and science of liquid packaging with its innovative range addressing the challenges of the ever-evolving dairy, juices and distilled beverage industries delivering unmatched user convenience, ease of opening and optimal shelf life.
Notably Asepto is the liquid packaging material brand from the House of Uflex – India's largest multinational flexible packaging materials and Solution Company. Asepto enjoys the distinct reputation of being the First Indian Aseptic Liquid Packaging brand.
ASEPTO product portfolio offers pack sizes ranging from portion to family packs with volumes 100ml Base,125ml Slim,160ml Slim,200ml Slim,250ml Base,1000ml Slim and 1000ml Base.
Explaining about the way Asepto has ushered open a whole new era of possibilities in the field of liquid packaging by using uniquely novel holographic, multi-lens and embossing effects that have never been seen before on brick packs. Mr. Ashwani Kumar Sharma, President & CEO, New Business Initiatives at Uflex said, "The Spectacular products from Asepto i.e. "Spark and Premium" bring in the real innovation that differentiates us from other beverage packaging. Currently the retail shelfs world over are inundated with brick packs that look just the same. Making the most of our in-house holographic prowess, we will be able to bring in never seen before mesmerizing optical effects on the aseptic brick packs that will not only enhance the aesthetic quotient casting a spell at the point-of-sale (PoS) but will also save brands falling prey at the hands of counterfeiters.
The new range of Asepto attracted encouragingly high number of visitors comprising global brands, packaging engineers and researchers making it the showstopper at the exhibition. Visitors from 28 countries thronged Asepto's pavilion, 50% being from Middle East, 30% from Africa and the rest from Asia.
Not many companies can boast of attracting so many eyeballs at a debut the way Asepto did at Gulfood Manufacturing. During the exhibition, Asepto launched its maiden video focusing on its newly made 'Aseptic Liquid Packaging' facility located at Sanand, Gujarat (India).
The state-of-the-art aseptic liquid packaging material manufacturing plant at Sanand Gujarat, India has an annual production capacity of 7 billion packs. Uflex as a total solution provider has also come up with the first ever Indian Aseptic Liquid Filling Machines under the Asepto Smart Series. The Aseptic Liquid Packaging Material Manufacturing Plant affirms Uflex's commitment to Government's Make in India initiative.
More info: