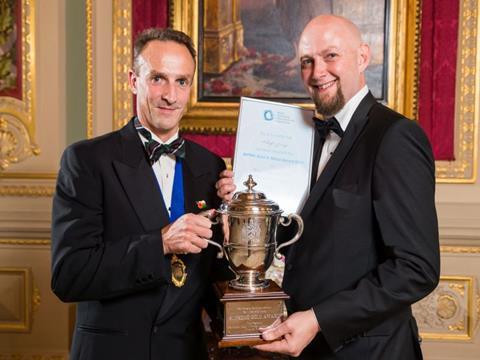 Ardagh Group has won this year's MPMA Best in Metal Award for its Minor Figures Cold Brew Nitro Coffee.
The Best in Metal Award is selected by MPMA from shortlisted finalists in the MPMA sponsored metal's category of the UK Packaging Awards, and this year's winner was announced at the association's annual dinner held at Drapers' Hall in the City of London, on Friday, 3 November.
Pictured here receiving the Best in Metal trophy from MPMA chairman, Richard O'Neill, is Lee Healey, Ardagh Group.
Minor Figures Black Nitro reflects the latest trend in coffee shops for cold brew coffee. The can features a fixed, nitrogen-infused widget which on activation delivers a powerfully distinct sound and floods the coffee with tiny bubbles to create a 'draught-style' black cold brew that is full bodied, silky smooth and refreshing.
The nitrogen enhances the aroma of the coffee and generates a cascading pour that ultimately tops off the beverage with a creamy, frothy head. William Boyd, MPMA director and chief executive, commented: "This pack brings cold brew nitro coffee to mainstream retailers in a good-to-go format without need of refrigeration, and is a worthy 'Best in Metal' winner. It shows innovation, style and is right on trend, exemplifying everything we look for in our Best in Metal champions."
More info: