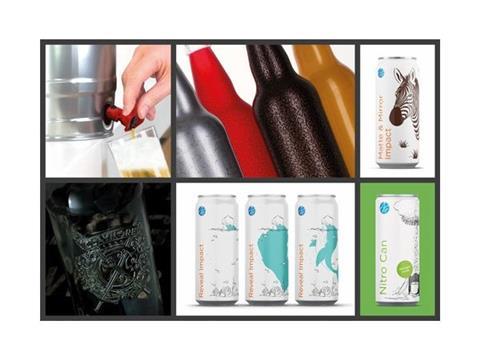 Following Ardagh Group's successful 2017 floatation on the New York Stock Exchange, the company's stand at drinktec 2017 promises an varied display of the latest innovations in glass and metal packaging.
'Reveal Impact' is Ardagh Group's new product in aluminium cans. Using a two-stage thermochromic solution, customers are given the option to reveal hidden messages or promotional slogans on the beverage can. The 'Matte & Mirror Impact' innovation, available from 2018, allows matte and shiny contrasts on aluminium cans commercially for the first time. The award-winning 'Nitro Can', launched to capitalise on the sense-enhancing nitro coffee trend gaining momentum throughout Europe, will also be on the stand for visitors to experience.
Visitors can try the 'pull and tap' solution, which is available for Ardagh Group's 3.1 and 5 litre metal party kegs. This new tapping system delivers an easy and professional way of serving a freshly poured beer.
Glass innovations include novel, new and customer-interactive powder finishes never seen before in the glass industry. And for the first time, in-house designers will give visitors a hands-on demonstration of the brand-enhancing Sculptured Embossing glass design technique, which takes glass design definition to a whole new level. Loretta Dignam, Group Marketing and Communications Director comments: "drinktec is the ideal platform this year for Ardagh Group to demonstrate our exciting and innovative new glass and metal packaging products." She adds: "Innovation is a priority throughout Ardagh Group and will continue to be intrinsic to the Group's success strategy. We invest in research that provides us with insights into how consumers interact with packaging, giving our designers and technologists the guidance to develop innovative ideas that respond to current and emerging trends. Collaboration with our customers and suppliers is central to our innovation philosophy, enabling us to share how ideas can become reality. The result is creative thinking throughout the organisation, from design to delivery, and our customers reap the rewards."
Stand Number: HALL A1/539
More info: