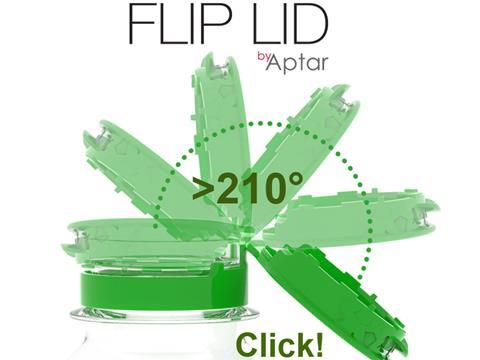 Aptar Food + Beverage has been recognised with a World Beverage Innovation Award for its Flip Lid product.
A panel of nine judges considered entries from over 33 countries in 24 different categories. The Flip Lid was recognised by this jury as a "very innovative concept that goes in line with today's main concerns about packaging disposal and recycling" and deemed "a consumer-friendly closure".
The product was designed to promote post-use recycling – since the tethered closure remains attached to the bottle throughout its life cycle – while also reportedly improving the consumer drinking experience. A critical technical parameter for ease of opening, the company says, is the closure's protruding element, which aids in gripping and lifting the lid, allowing for a one-handed experience. This closure also apparently offers consumers a wide opening for drinking comfort and an audible click when the hinge is fully open or fully closed. In addition, Aptar says that Flip Lid gives brands the opportunity to reduce plastic usage, by pushing the limits on light-weighting in bottlenecks – without compromising the consumer experience.
Ryan Kenny, Aptar's President Food+Beverage said: "We are honoured to have our Flip Lid product win this award. Receiving such an award is excellent recognition for the dedicated team behind the development of Flip Lid, and only further reinforces Aptar Food + Beverage as the leading provider of innovative and sustainable solutions that address the changing requirements for our customers, without compromising the convenience and intuitive use expected by the consumer."