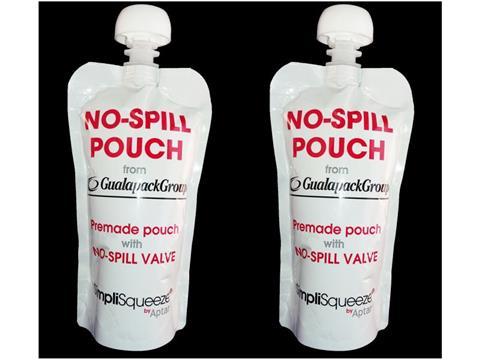 At drinktec, Aptar will showcase its well-known Original family of flip-top sport closures, available in different neck finishes and valve capable.
Also, Contender 38mm bi-injected, part of the Original family, is a liner-less flip-top sport cap designed for the hot fill bottling process. The closure's innovative bi-injected sealing system delivers good product protection but without the added foil liner.
Also based on the Original sport closure platform, Uno, a one-piece sport cap suitable for cold and ambient filling is already available worldwide in 28mm PCO 1881 and will be soon available in 38mm neck finish with a two-start or a three-start version. Aptar Food+Beverage and GualapackGroup combined their expertise and consumer-trusted products into one unique package solution, the No-Spill Pouch fitment shown for the first time at Interpack in Dusseldorf, Germany in early May 2017. It offers the safety and convenience of Aptar's SimpliSqueeze® valve in the squeezable, eye-catching and fun-to-use Gualapack's CheerPack® spouted pouch.
Aptar will also unveil more innovative dispensing systems at Drinktec such as a closure for large PET beverage containers and the new sport cap generation with a visible and non-detachable tamper evident system. For instance, the new sport closure Avantage actually uses an intuitive press button tamper evidence system. Inside is the affordable value-added sport closure that differentiates itself in a competitive market. Guardian sport closure brings a safe consumer experience that will generate repeated purchases. All three of them are SimpliSqueeze® valve capable.
Aptar at Drinktec - Hall 4 stand number 210.
More info: