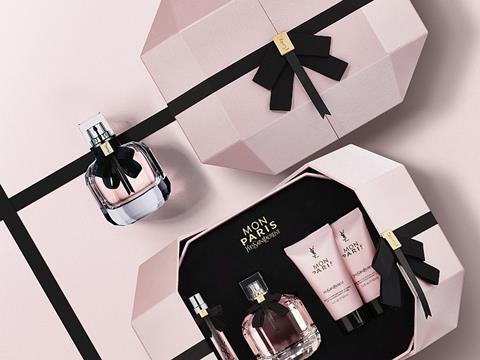 To celebrate the success of Yves St Laurent's flagship perfume 'Mon Paris', the luxury packaging design studio Appartement 103 was commissioned to create this special limited release "coffret prestige", a bold gift box that elevates the brand's image and serves as a glorifier highlighting the products inside.
From the brand's distinctive visual elements, a surprising secondary packaging with folded carton was designed, taking inspiration from the multiple facets of the bottle's contour.
In contrast with its bold shape, the creative team chose a minimalist graphic design direction, which ultimately highlights YSL's bow-tie with refinement and elegance, revealing its texture and contrasts, materials finishing details and gold plate with its illustrious embossed "Cassandre".The slightly iridescent folded paper and its textile inspired embossed pattern are emphasizing the Haute Couture codes of YSL's brand essence.