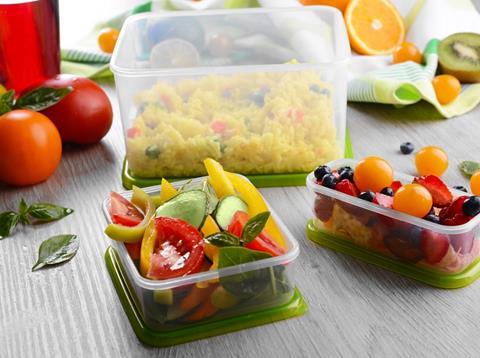 In this short piece, Microban International highlights the importance of promoting wider use of reusable packaging models.
Plastics take a great toll on the environment, contaminating our oceans and piling up at landfills; in 2019 alone, the total amount of globally produced plastics was 368 million metric tons. Over the last 50 years, 79% of plastic waste has accumulated in landfills, much of it food packaging. For this reason, global attitudes are continually shifting away from single-use plastics as consumers look for more durable, environmentally-friendly packaging alternatives. However, when it comes to food packaging, disposal of plastic containers is often unavoidable as they become prime hotspots for degrading bacterial growth.
Inadequately cleaned food packaging provides the ideal surface for contamination, as the microbial colonies use leftover food residues and particles for survival and growth. Some plastics also contain high levels of plasticizers – a carbon-rich food source for bacteria and fungi – which can render them particularly susceptible to penetration from microbes. In addition, plastic manufacturing has transitioned from using synthetic, phthalate-based plasticizers to plant-derived alternatives, as they are often touted as 'greener'. However, plant-sourced plasticizers – such as epoxidized soybean oil (ESBO) found in some PVC food packaging – are potentially even more prone to microbial attack. The challenge is how to make plastic food packaging that remains visibly cleaner to encourage reuse by increasingly hygiene-conscious consumers.
Changes in global legislation are positioning product design at the forefront of sustainability initiatives and prompting manufacturers to identify opportunities for innovation. Incorporating antimicrobial chemistries into plastic packaging is a perfect example of this, an ideal solution that actively inhibits the growth of bacteria by disrupting their life processes and biological functions. Microban® International offers food-contact approved technologies that are integrated into products during manufacturing, becoming part of the molecular structure of the packaging, so that it cannot wash off or wear away. This 'always active' component continues to provide 24/7 protection for the material, keeping food packaging cleaner, fresher and more durable for longer. Integrating built-in antimicrobials in this way is already helping to address the demand for smarter and more sustainable packaging, and encouraging consumers to invest in long-lasting, reusable alternatives to single-use plastics. As more manufacturers turn to Microban, incorporating antimicrobial product protection in packaging is sure to play its part in reducing plastic waste.