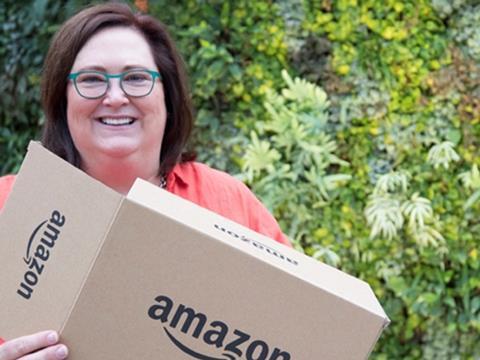 'Modeling conveyance and its impact'
Beyond machine learning, our team has also developed tools that simulate the rigours of the fulfillment process to conduct virtual product and package testing. With our modeling capability, we can simulate a package moving through our network, modeling conveyance and its impact.
We have modeled corrugated boxes to determine the minimum required material strength as well as the tape and seal necessary to withstand the fulfillment process to reduce waste across our network. When the number of boxes shipping is in the billions, making our boxes lighter weight yields significant waste reduction. We know these efforts must be made across the industry to maximize impact, and our goal is to make these tools available to manufacturers globally so they can reinvent their own e-commerce packaging designs, leading to less waste and reduced damage. To date, we have reduced the weight of our outbound packaging by 27%, eliminating 810,000 US tons (735,000 tonnes) of packaging material worldwide. That's the equivalent of over 1.4 billion shipping boxes.
Each step we take to use less packaging throughout the supply chain reduces volume per shipment and results in a more efficient use of transportation and reduces carbon emissions across our network. Looking ahead, our targets are clear. Amazon and Global Optimism recently announced The Climate Pledge. Amazon cofounded and signed the Pledge, which calls on signatories to be net-zero carbon across their businesses by 2040, ten years ahead of the Paris Agreement. The Pledge inspires us to think bigger and innovate faster on behalf of customers and the environment.
Amazon has provided the industry with help in making packaging design changes by providing examples, test methods and instructional videos on the following national portals:
France: https://www.aboutamazon.fr/durabilité/emballage/certification
Germany: https://www.aboutamazon.de/nachhaltigkeit/verpackung/zertifizierung
Italy: https://www.aboutamazon.it/sostenibilità/imballaggio/certificazione
Spain: https://www.aboutamazon.it/sostenibilità/imballaggio/certificazione
UK: https://www.aboutamazon.co.uk/sustainability/packaging/certification