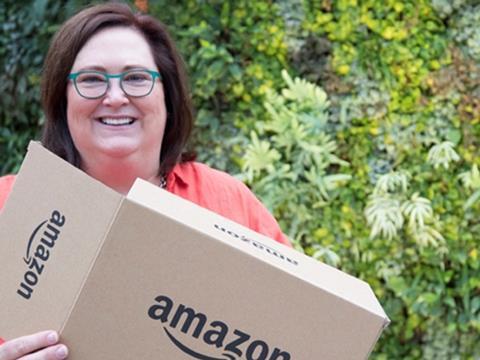 Kim Houchens is the director of customer packaging experience at Amazon. Her team is responsible for inventing packaging that is easy for customers to open, eliminates waste, and ensures products arrive on customer doorsteps undamaged. The company started driving innovation in sustainable packing over a decade ago, launching waste reduction initiatives like Frustration-Free Packaging. In this column, Kim shares how Amazon continues to address the specific challenges of e-commerce, including how her team uses machine learning to reduce packaging waste worldwide.
---
Our customers love the convenience of shopping at Amazon. Whether it's a new espresso maker for their kitchen or a birthday gift for their favourite someone, no matter what our customers order online, the way it is packaged is key to a great experience. Even when we deliver the product undamaged, if the packaging is excessive, our customers tell us. They call customer service and post on social media telling us they want minimal packaging and the ability to recycle all packaging waste.
E-commerce gives us the opportunity to package products differently. Unlike traditional retail packaging, the products you buy online don't require the romance packaging that is used for displaying products on store shelves. Instead of attention-grabbing packaging, star ratings and reviews guide customers shopping online. The primary purpose of e-commerce packaging is to ensure customers' products are protected all the way to their final destination. Amazon delivers more than 10 billion items a year. Given our scale, the potential to reduce packaging waste is significant.
Frustration-Free Packaging
Our sustainable packaging initiatives include programmes like Frustration-Free Packaging (FFP). Created in 2008, FFP eliminates wrap-rage with packaging that is easy to open, lab-tested to verify its protective packaging design, and 100% recyclable. We have inspired thousands of vendors around the globe to redesign their packaging as Frustration-Free. There are more than two million products available through our FFP programmes, and participating brands experience better customer reviews and reduced damages.
This year we began incentivizing vendors across a diverse range of products, from kids' toys to large consumer electronics to embrace designing packaging for FFP, including many items that are difficult to ship due to size or bulk. Philips, for example, was inspired by our FFP programme to reinvent their packaging. The new Norelco OneBlade razor design now has 80% less packaging volume, is fully recyclable, and delights customers with print on the inside of the box which enhances the opening experience.
Vendors selling on Amazon – Proctor & Gamble, Henkel, and Mars Pet Food to name just a few – are certifying their products as FFP to achieve significant packaging material reduction. EU vendors have eliminated 120,000 US tons tonnes (around 109,000 tonnes) of packaging waste, the equivalent of 176 million boxes.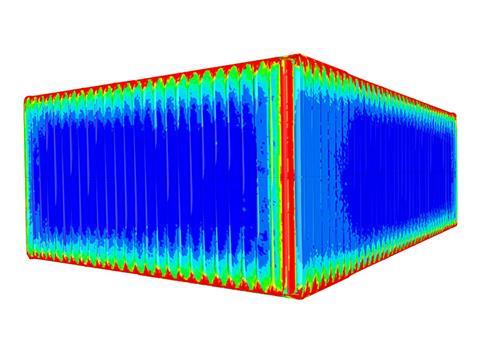 Driving down waste with machine learning
In addition to the great work of vendors developing FFP packaging, Amazon continues to drive down the waste of our own branded packaging. This includes assigning smaller items to ship in lightweight, flexible packaging instead of boxes and developing computational modeling that optimizes the sizes and weights of the boxes we do use.
Flexible packaging (such as bags, mailers and folders) uses less material than similar-sized boxes, weighs less, and conforms around the product, taking up less space than a box during shipping. That means flexible packaging makes it possible for us to pack more orders in each load, resulting in fewer trips, less fuel burned, and a smaller carbon footprint. As we work towards our vision of zero packaging, we must keep a high bar for customer experience, proactively identifying which products need more protection (like lightbulbs) than our best flexible packaging can provide.
To help us determine which products are suitable for flexible packaging at Amazon scale, we created machine learning (ML) algorithms using the Amazon Web Services (AWS) Cloud infrastructure. Our solution matches each of the hundreds of millions of products you can order from Amazon with the most optimal packaging. The result is most smaller items now ship in flexibles. In cases where the protection of a box is needed, our algorithms help us continuously optimize box choices to fit our ever-changing catalogue. These improvements help reduce volume per shipment, which means less unnecessary packaging and more efficient use of all forms of transportation.
We are using Machine Learning to discover a number of ways to eliminate waste including algorithms that determine which products can safely ship in a paper bag, predict which products might leak, and identify products that can be folded to fit into smaller packages. Our most impactful models allow us to determine which items don't need any packaging at all—making it possible to save our most protective packaging for the products that really need it. Our machine learning tools have significantly changed our packaging mix over the past few years, reducing our use of boxes by 32%. To learn more about how we're using machine learning on AWS to reduce packaging waste, please visit: https://www.youtube.com/watch?v=rHdpPHheY9M&t=29m43s.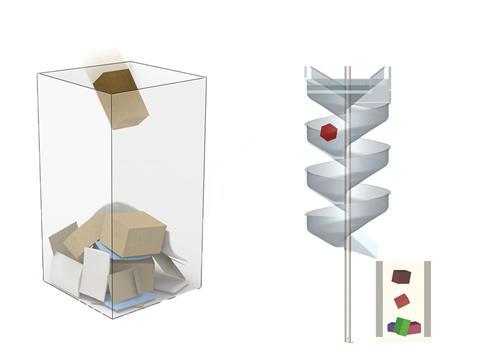 'Modeling conveyance and its impact'
Beyond machine learning, our team has also developed tools that simulate the rigours of the fulfillment process to conduct virtual product and package testing. With our modeling capability, we can simulate a package moving through our network, modeling conveyance and its impact.
We have modeled corrugated boxes to determine the minimum required material strength as well as the tape and seal necessary to withstand the fulfillment process to reduce waste across our network. When the number of boxes shipping is in the billions, making our boxes lighter weight yields significant waste reduction. We know these efforts must be made across the industry to maximize impact, and our goal is to make these tools available to manufacturers globally so they can reinvent their own e-commerce packaging designs, leading to less waste and reduced damage. To date, we have reduced the weight of our outbound packaging by 27%, eliminating 810,000 US tons (735,000 tonnes) of packaging material worldwide. That's the equivalent of over 1.4 billion shipping boxes.
Each step we take to use less packaging throughout the supply chain reduces volume per shipment and results in a more efficient use of transportation and reduces carbon emissions across our network. Looking ahead, our targets are clear. Amazon and Global Optimism recently announced The Climate Pledge. Amazon cofounded and signed the Pledge, which calls on signatories to be net-zero carbon across their businesses by 2040, ten years ahead of the Paris Agreement. The Pledge inspires us to think bigger and innovate faster on behalf of customers and the environment.
Amazon has provided the industry with help in making packaging design changes by providing examples, test methods and instructional videos on the following national portals:
France: https://www.aboutamazon.fr/durabilité/emballage/certification
Germany: https://www.aboutamazon.de/nachhaltigkeit/verpackung/zertifizierung
Italy: https://www.aboutamazon.it/sostenibilità/imballaggio/certificazione
Spain: https://www.aboutamazon.it/sostenibilità/imballaggio/certificazione
UK: https://www.aboutamazon.co.uk/sustainability/packaging/certification