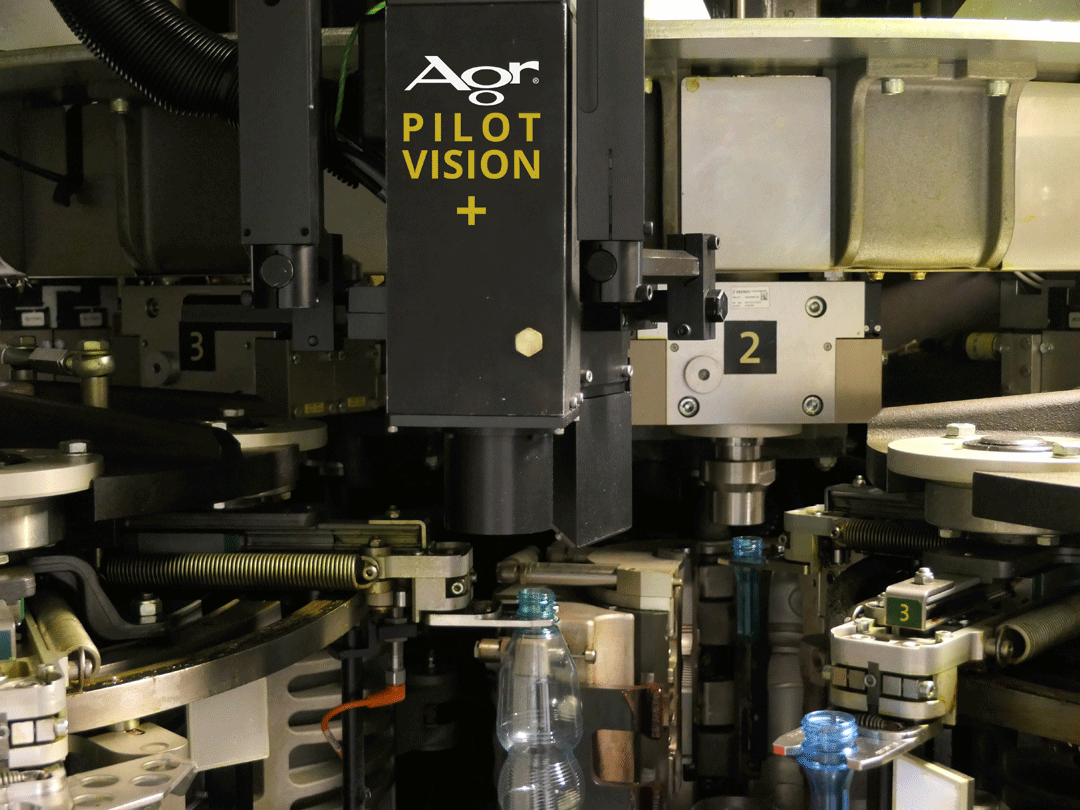 Agr International recently introduced its latest in-the-blowmolder vision inspection system, Pilot Vision+. This product is configured and positioned to meet the quality management requirements for high-speed PET bottle production, with a special focus on containers with high percentages of rPET.
This system is designed to work in conjunction with today's high speed reheat stretch blowmolding equipment and can be used along with the Process Pilot® automated blowmolder management system. The combination of Pilot Vision+ and Process Pilot provides bottle producers with the ability to detect random occurring defects and manage the process to maintain precise material distribution on bottle designs of all kinds.
The Pilot Vision+ system itself is a modular vision-based inspection system that mounts inside today's high-speed reheat stretch-blowmolding equipment. The compact design of cameras and lighting components and an operating speed of up to 100,000 bottles/hour make it compatible with most blowmolder models and brands.
The preform inspection module of the Pilot Vision+ system makes it possible to identify defects that are visible in the preform, before the bottle is blown and the preform cameras ensure that colours are within acceptable ranges. This is particularly valuable with the variations in colour that can typically occur when higher percentages of rPET are used.
Another tool designed to address rPET related issues is the Pilot Vision+ system's capability to learn multiple reference image sets for u inspection. This makes it possible to process a preform supply with slight colour variations and manage the range of colour by accepting those that match the reference images, while rejecting those that do not match.
The base inspection on the Pilot Vision+ system incorporates a powerful set of inspection algorithms that identify the smallest defects and anomalies regardless of base size, shape or design. In addition, the base inspection features a unique liquid lens that adjusts focus for bottle heights from five to sixteen inches, without mechanical components. This feature eliminates the need for mechanical lens adjustment when changing between containers of different heights. Focus settings are saved with each job and focus is automatically adjusted to accommodate new container heights. This saves changeover time and ensures a clear, high-resolution image of the base at the start of production.
In addition to these aspects, the new Pilot Vision+ offers features including: a large touch-screen user interface, active cooling, pre-built tool sequences and flexibility to adjust parameters during production.
The Pilot Vision+ system also offers a number of tools to assist operators with setup and job management. These include adjustable ROI tools, digital image filtering, zone scaling and the ability to display live and historical inspections images that can be used for evaluation or setup purposes. To aid operators in monitoring line status and assessing production trends, detailed defect and reject information and production-run data summaries are continuously updated. Defects are mold/spindle correlated and categorised using colour codes for quick and easy identification of offending characteristics.