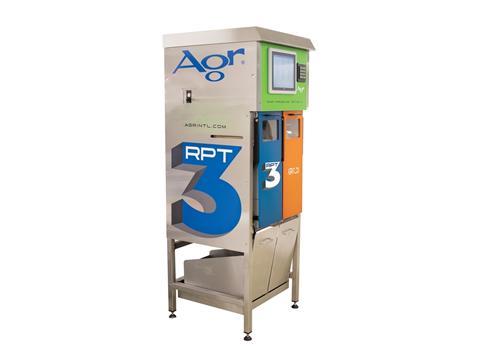 Agr International has introduced its latest product for pressure testing glass containers, the Ramp Pressure Tester 3 (RPT3), an all-in-one system designed to maximise laboratory testing or plant floor throughput and operator usability.
According to Agr, the new RPT3 is an all-in-one pressure testing system designed for operation in the laboratory or the plant floor of a glass container manufacturing or filling facility. While developing the system, the company adds that particular attention was paid to maximising operator usability, operational uptime, testing throughput, and purchase value.
Agr explains that the new RPT3 system acts like two testers in one, offering a 2-bay system that incorporates two independent pressure generators. This design reportedly allows an operator to test two containers simultaneously, doubling laboratory testing capabilities with a single device and reducing investment compared to the purchase of two separate test systems.
The company adds that the RPT3 incorporates advanced features to simplify testing and maximise throughout, including an extended pressure testing range up to 68.9 bar (1000 psi) and precision low range testing from 1.4 bar (20 psi). The RPT3's dual, high-precision, hydraulic pressure generation system apparently utilises an FP-GA-based controlled velocity pressure management method.
This design allows the RPT3 to achieve the defined ramp-rate from the start at low pressures and maintain the ramp rate with an accuracy of + 2 psi throughout the test, according to Agr. The company says that this exceeds the industry requirements defined in ASTM C-147 and ISO 7458.
The company notes that a precision-controlled ramp rate throughout the testing process is essential for accurate and repeatable test results. Agr's engineering manager comments: "Accurate results are paramount because, at the end of the day, decisions on production are based on this data.
"This is the difference between Agr pressure testing systems and the low-cost alternatives that have recently appeared on the market. Initial costs should not be the only thing to consider when investing in a testing system.
"Longevity of the system, reliability, ease of use, throughput and most important, accurate and repeatable results should be a big part of the decision process."
In addition, the company says that the RPT3 incorporates a Linux-based architecture and operating system, as well as a large touch-panel user interface offering easy and intuitive job setup and Industry 4.0 connectivity.
The system can be placed near production lines, even in areas with limited space and where a separate fill area is not possible, Agr says. This reportedly means that bottles can be tested without the need to pre-fill, saving time and improving operator efficiency.
Meanwhile, for operations that have space and available resources for prefilled bottles, the RPT3 offers a mode where prefilled bottles can be tested, which Agr adds can eliminate the filling cycle and increase testing throughput.
Other notable features, according to Agr, include quick-change bottle holders with replaceable inserts that permit containers to be quickly loaded and removed from the testing station. The company explains that inserts are constructed of high-strength materials for long life and can be quickly changed to accommodate different finish sizes, while high-tech polymer seals provide leak-proof sealing during testing.
Agr concludes that the RPT3 test system is designed to work in conjunction with the new Vertical Load Tester 3 (VLT3) to provide vertical load data on glass containers. A reportedly unique feature of this combination is the ability to perform pressure tests and vertical load tests concurrently.
Last year, Agr International configured its Gawis 4D with the AF robotic handling system, which can apparently maximise laboratory throughput while achieving high measurement precision for preforms and bottles.