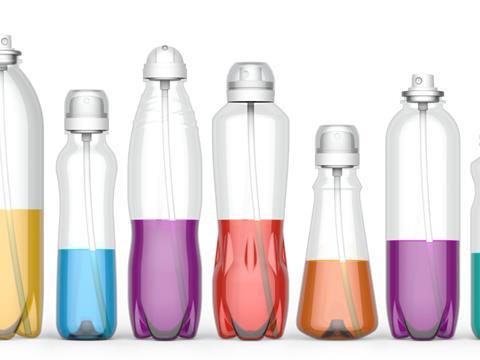 Design spotlight: Ball Packaging
Reaching the consumer through on-shelf differentiation is a constant challenge for brand owners. Add to this the increased consumer demand for sustainable solutions, combined with functionality and personalisation, and it's clear to see this puts an awful lot of pressure on aerosol manufacturers to come up with ever-more innovative solutions.
One big design story of the past year was Ball Packaging's 360° can, which pairs graphics expertise with innovative shaping in order to be visually engaging from every angle. "360° brings can design to the next level, as varied shaping is available around the entire circumference of the can," says Jason Galley, global director Innovations and Business Development. "Artwork oriented to the recessed area complements the shaping and allows for dynamic detail. For brands that embrace a clean and simple aesthetic, this new dimension can add drama without clutter."
There are also ergonomic benefits. The shaped recessed area can be designed in such a way that it provides easy grip – a feature that is useful for products where slippage can be a usability concern.
What does 'sustainable' mean for aerosols?
In the midst of the ongoing climate crisis, the word 'sustainable' is used so often that sometimes it can seem to lose all meaning – and it can mean different things to different people, depending on their priorities or which part of the value chain they operate in. We asked our various interviewees what the word means to them within their own segment.
Olivier Overweg, Airopack: It means being as transparent as you can be. Show customers and consumers the real 'end-to-end' comparison of the carbon footprint. For instance: what is the comparison of energy needed to recycle aluminium, plastics or metal?
Alain D'Haese, FEA: The concept focuses on meeting the needs of the present without compromising the ability of future generations to meet their needs. Life-Cycle Assessment is the only tool to make relevant environmental assessments, but it is complex and costly, and the results depend on the data which are used and assumptions which are included. Aerosol packaging is only a part of the product impact.
Nadine DeBauche, Graham Packaging: Graham has committed to the New Plastics Economy Global Commitment for all plastic packaging to be reused or recycled by 2025. In addition, we're currently focused on three primary goals that directly impact our customers: increasing post-consumer resin content in our bottles, improving recyclability in all categories and decreasing our carbon footprint.
Jason Galley, Ball Packaging: Public debate often focuses on the first-time production of aluminium, plastic or other packaging materials. This is outdated, linear economy thinking and neglects, for example, the 95 per cent energy savings that are achieved through the recycling of aluminium. Ball's development of ReAL®, the world's first lighter weight aluminium aerosol can, expresses our commitment to innovation and sustainability.
Europe's aerosol industry: At a glance*
More than 5.7 billion of the 16 billion units produced globally were made in Europe in 2017 (a new record high, according to reported filings)
The UK, Germany and France account for more than 60 per cent of annual European aerosol production
Aerosol containers are primarily made of steel and aluminium, with glass and plastic containers remaining marginal
Cosmetics and household products represent more than three-quarters of European production (personal care 56.6 per cent, household 20.7 per cent, others 22.7 per cent)
*Taken from the FEA Statistics report 2017